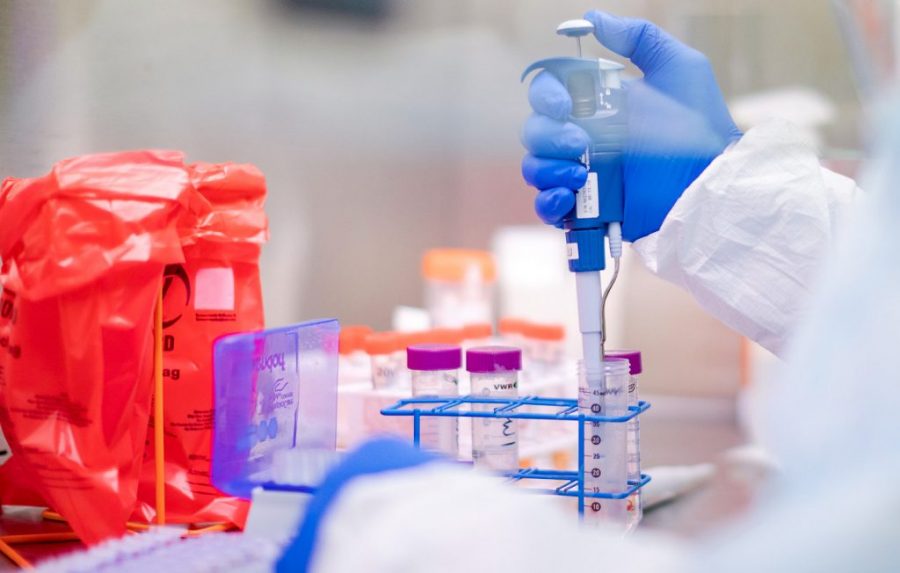 State Public Health Laboratory in Exton Tests for COVID-19" by Governor Tom Wolfe (CC BY)
Currently there are 3 types of vaccines that are able to treat Covid-19 patients, BioNTech, Fosun Pharma, Pfizer vaccine are all authorized by FDA and recommended by the CDC for use in the US for a limited population. Pfizer and BioNTech are the more popular types of vaccine that give 2 shots within 21 days apart in order to receive the full effects of the vaccine. It is stated by the CDC that "The Pfizer-BioNTech vaccine is recommended for people aged 16 years and older" and there could be potential side effects after taking the vaccine. The side effects may include fever, chills, tiredness, and headaches, throughout the body and they are more common after the second dose of the vaccine. Data has shown that the Pfizer-BioNTech vaccine reduced the risk of COVID-19 by 95%. Millions of vaccines have already been distributed and according to the New York Times, "As of Tuesday, the seven-day average of vaccine doses administered across the United States was reported by the Centers for Disease Control and Prevention to be about 1.49 million doses a day," and that number only continues to increase.
BioNTech, Fosun Pharma, Pfizer are not the only vaccinations that are coming out, Johnson and Johnson has come out as the third company to be producing a Vaccine which is currently still waiting to be FDA approved. Although this is another vaccine that is coming out, according to scientists the new Johnson and Johnson is only 66% effective, however this type of vaccine is only one shot and done, unlike the others where it is a 2 shot over a specific time period. Mr. Stoughton recently got his vaccine recently, he said that his "arm was sore! But [he] is tough, so [he] was okay."
Overall the vaccinations of Covid- 19 are becoming more prevalent in today's society and it is beginning to reach many throughout the country, and hopefully in time everyone will be able to access them. As the science and knowledge behind this virus gradually increases, so do our chances of being able to be immune.