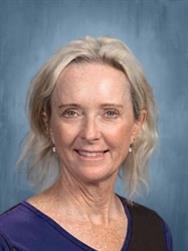 Ms. Kelly Hodge has decided to retire from teaching. She has taught at Coronado High School for the past eight years, and has taught in total for 30 years in D11.
During Ms. Hodge's time here, she has worked with many people and didn't want to name one specific person who influenced her the most, but she said her favorite people to work with were her co-workers in the English department.
Ms. Hodge then talked about her favorite part of working at Coronado saying, "Coaching the Girls Golf Team to two 4A Regional Titles and having four girls place in the top 20 at state! Also, chaperoning dances, teaching students English at several grade levels to see them grow as contributing members of the school and society!" Her favorite subjects to teach here were Honors Ninth Grade English, and Sophomore and Junior English.
She has taught many different grades and subjects including, "7th-12th grade English, AP Literature, Department Chair Holmes Middle School and Mitchell High School." She also served as a coach and sponsor for many years: "head coach boys and girls golf teams at Mitchell High School and Coronado High School, head of District 11 Middle School Golf for 13 years, head coach boys and girls golf teams for Holmes Middle School–13 years, district curriculum committees for summer revision for 20 years, and sponsored Key Club at MHS."
Ms. Hodge explained a lot of how teaching changed throughout her career: "Thirty years ago I started with writing out all grades and absences in a grade book then calculating them, and manually submitting them at quarter and semester. We also had very few literature books and curriculum for English at MHS when I started. We "crafted" every English worksheet, test and lesson by hand according to district and state standards and had to type them out to have them sent to a copy center a week early so we could have them back to use on time. We have come a long way!!!"
Ms. Hodge disused what will she cherish the most about teaching when she retires, saying, "I will cherish the Girls Golf Team beating Cheyenne Mountain High School for the 4A Regional title–such an upset after ten years! I was also the assistant boy's golf coach at CHS when my son, Kyle Kleckner was part of the winning boy's regional team at CHS along with three others I had coached including Isaac Petersilie starting at Holmes Middle School. What fun to see them compete at the state tournament!"
She also included with her response to teaching her two sons and a specific group of students she had followed throughout her teaching career: "I was very close to that group of students which included my youngest son, Dylan Kleckner. I actually taught both of my sons English at Holmes and Dylan again at Coronado–great memories."
Ms. Hodge was well-known for taking students on trips and would take over 300 students over a period of 15 years all over the world through Education First Tours: "So many highlights for me, but a special one was when 40 students from the class of 2019 joined me for a spring break trip to Costa Rica their senior year!"
Ms. Hodge's advice for the next generation of high school students and new teachers comes from her favorite author, Maya Angelou: "Don't just teach because that's all you can do. Teach because it's your calling. And once you realize that, you have a responsibility to the young people." Her own quote she added was, "Cherish every moment of your life, because in a blink of the eye thirty years has sailed by."
Finally, Ms. Hodge discussed how she is going to be spending her newly-found free time: "I will be teaching full time golf at Cherokee Ridge Golf Course, traveling the world, coaching the Girls Golf Team at CHS, and plan to substitute here at CHS as well!"
As one of her players on the golf team I can say I appreciate all she does for us, and she has a love for the sport of golf not matched by many. I have known her for 2 and a half years, and she hasn't changed a bit, from smiling all the time, to her constructive criticisms. I have grown close to Kelly Hodge, and I can say she is one great person. I am sad to hear about her retirement, but I'm not too sad because she will still be my coach for the next 2 years. I'm exited to see what she will do and how she will spend the next chapter!