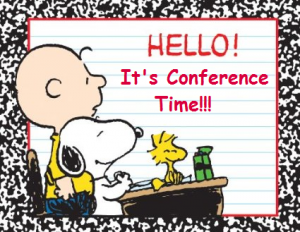 Its that time of year, Cougars!
Parent Teacher Conferences are taking place on October 23rd through the 25th.
From 5:00 pm to 8:00 pm on the 23rd will be when all of the walk in conferences take place. It will be open for walk ins only!
No School on the 24th, but also the second day of conferences! This day is by appointment only, so look for the link on the school website that will be going live on October 4th. Conferences will be from 9:00 am to 7:00 pm with a 30 minute break for lunch at 11:30, and an hour long dinner break at 3:00.
The last day, Friday the 25th is for make ups only! If you and your parents were unable to make it on the first few days, then be sure to pop in on the 25th. There is also no school on this day.