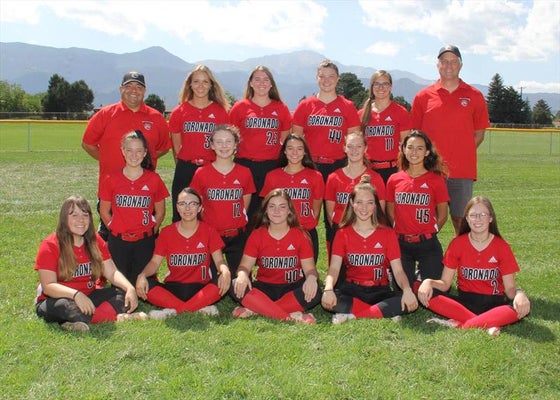 This year has been an incredible success story for Coronado Softball. The team came out of regionals ranked 17th. On Friday, the 25th, up in Aurora, CO, the team narrowly lost to Silver Creek with a score of 1 to 0. While this eliminated them from the state championship, it didn't do anything to lessen the significance of their amazing 21-5 season. This type of success has been completely unprecedented in our softball department for many, many years. 
They closed out their regular season with wins against Standley Lake, George Washington, and Harrison, among only two losses at the end of their season.These came against Fort Carson and Pueblo South, and were both very close. With this incredible season, our Softball team is currently sitting at 54th in the state.
In an interview for an earlier article, Jenna Ruggaber,12, was quoted saying that they have "a good young group of girls, and [they] are doing [their] best to show them the parts of the team." Throughout the season, it is safe to say that this was an extremely attainable goal that will hopefully translate to future seasons. 
Previously, Nevaeh Santisteven,12, said that the key to their stellar season was to "keep practicing and to push each other harder and better" Talking with other members of the team, it was evident that there was a heightened competitive spirit this year. It was this competitive spirit that prompted this amazing show of spirit and athleticism.
The mighty cougars finished their season with a batting average of .385, an on base percentage of .484, and a fielding average of .919. These are incredible numbers that have been fairly consistent throughout the season. The relatively young team went into the season with some doubt, after losing their second game to Widefied, but came back in strength to win their next ten straight. 
Nevaeh also said that the team's main strength this year was their batting. This was an evolving part of the team throughout the season, with the average getting as high as .765. The team also had phenomenal averages in the area of fielding, reaching 1.000 multiple times in the season. The very last thing that one could describe the team this year as is, "one sided."
Conrad Gonzales, the head coach said that, "I would have to say that Coronado Softball has grown and will continue to grow. This is a place that younger players should be looking towards to come play softball. We had a great season this year, the players, school and community should be proud!"
Bright Spots on the team include Savanah Starr,10, who had the highest batting average on the team at .475. Pitcher Jenna Ruggaber also had an amazing season, throwing 247 strike outs. On the incredible pitching, coach Gonzales said, "Jenna Ruggaber was confident in the pitching circle and understood that she was in control of the game." Coach Gonzales also commented on the out of state transfer, Lynia Henry who "brought a fire to this team that truly enhanced the organization." The Varsity Softball team is also home to freshman, Bailey LeGrere who had a batting average of .368 and an on base percentage of .463.
Our Softball Team put in so much hard work this season to make it to state, and be the best that they have been in years. So if you see a softball player in the hall, be sure to congratulate them on their phenomenal season, and wish them luck for next year. If you are thinking about maybe joining in the future, be sure to be on the lookout for information next year! There is a large senior class leaving, and the team would greatly appreciate any new players.
 Great job on a phenomenal season Cougars!