Good Luck at State, Z!
Once again, Zinabu Engstrom has qualified for cross country state!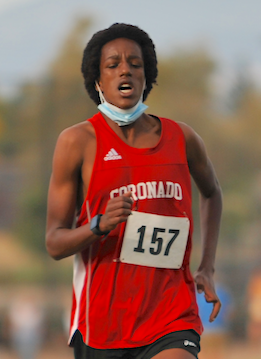 The cross country season concluded on Friday with both the boys and girls varsity teams finishing in seventh place at the regional meet in Northglenn. However, Coronado will be represented at state by none other than Zinabu Engstrom (Jr.)! Z, who ran a 16:20 at regionals putting him in second place only behind Scott Prieve of Palmer.
On his qualification, Z said that "Getting to go to state is a great opportunity in itself, but all season [he has] had big goals for placing at the state meet. This was all possible through the flexibility of the coaches and the good teammates [he] had. Also [he is] just thankful that there was a season at all."
The state meet, which takes place at the Norris Penrose event center is the same course that saw our boys' team finish in twelfth overall last year and our girls team in nineteenth. Last year Z placed thirtieth overall in the state, and this year is going into the meet ranked top twenty. The race will be run on Saturday, Oct 17th at 9:45 am with the Bear Creek Park side of the courses open to spectators as long as all social distancing guidelines are followed. The finish line of the race will also be streamed on co.milesplit.com.
In his junior year, Z is one of the school's most accomplished athletes and is only getting better. Please consider coming out to support him in his state run because as an athlete nothing is more motivating than having people come out to voice their encouragement and support for you. Furthermore, especially in this hard time, the closer we can come together (figuratively of course) as a school and more importantly as a community, the stronger we are and the easier it will be to get through this.
Nice job, Z; we're all rooting for you!