Post-Secondary Paths for Seniors
With the end of their last year of high school in sight, many seniors are working on their plans for the future.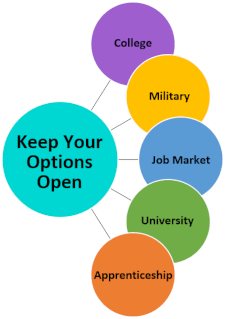 Seniors are down to their last year of high school. Many have begun to plan far ahead, while others are still trying to figure out what path will work best for them. There are countless choices for what comes next after high school, though not all of them may fit. Here, we have a list of options for students still deciding.
College- College can grant access to many career fields, such as education, law, and medical professions. They also offer opportunities for advanced careers in liberal arts and athletics. There are also many scholarship programs that can make college more accessible to those with lots of skill in certain positions, including sports and academics or those who could use additional financial help because college is expensive!
Trade School and Apprenticeships- Trade school often costs less than college courses and can sometimes open higher paying career paths, though these jobs are more hands-on than most. There is also a greater need for trade jobs, as well as an aging workforce in trade fields. "Construction areas, electricians, HVAC, that kind of work is in high demand," Mr. Eden states, the College and Career counselor here at Coronado. "(The aging workforce) are going to need a new crop of skilled students or skilled young people to take those jobs."
Entering the Workforce- Going into the workforce right out of high school can offer opportunities to move up the ladder quicker, or provide experience needed to start a company and grow it. It can also help to save funds for higher education like college or a trade school. There is also the added benefit of new experiences to add to your resume and use to determine if that career path is of interest.
Military Service- Joining the armed forces is another good choice, as enlisted personnel and officers have many benefits including medical care and opportunities for college or other education. Patriotism is also a large driving force for many that decide to join one of the branches, defending the defenseless and aiding allied nations.
Gap Year- "The gap year needs to be done with intention," Mr. Eden said in the interview. Gap years can provide time to choose what comes next in your life, like career paths or education. Getting involved in your community is a great way to do so. Not only can community service provide contacts for your resume, it also builds work ethic and communication skills.
There are many resources at our disposal to help make the decision, like parents, teachers, and counselors, who may be able to offer advice and insight. There are also sites and programs, like PPBEA and Indeed. The experiences could give ideas of what to do after graduation, but also keep in mind that no one has to fully commit to any one idea, as testing multiple paths can give an idea of what career paths are like and which fits each person better.