Jake Paul: The Boxing Villain We Needed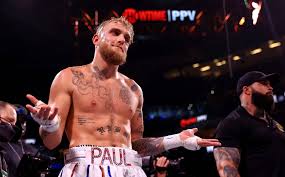 The world of boxing is an incredibly entertaining realm of the athletic world, but it has changed a surprising amount since the fights of Muhammed Ali or Mike Tyson many years ago. A new up and coming "fighter" of notable interest is the famous youtuber Jake Paul. In the beginning, nobody believed that he would actually pursue a career in boxing since he was reckless and weak. They would say he didn't have a chance against anyone else in the boxing world. But recently he has been showing the world the opposite by doing surprisingly well in boxing and even recently beating some UFC stars.
The youtuber decided to make his debut in the boxing world by participating in a sparring match against another youtuber, Deji, during Logan Paul's (Jake's older brother) fight with KSI. He ended up winning the match, and then he began to crave the sport and the attention it garnered. He even got bold enough to challenge UFC champion Connor McGregor to a fight. Connor turned down the fight, calling Jake foolish, but this made him want to prove himself to McGregor and his fans. He did this by first fighting another youtuber who goes by the name of Aneson Gib.
He wound up winning that fight as well, but he still wanted to fight more people. He began even more 'trash talk' on Twitter with as many athletes and celebrities as possible. This includes everyone from Lebron James to the president of the United states. Eventually, someone called his bluff and challenged him to a fight.
Former basketball player, Nate Robinson, was his new opponent. The fight between them ended even worse than the other two, with Robinson knocked out in just the second round. Paul continued with his confidence and cockiness given another boost of adrenaline, until he was challenged by former UFC fighter Ben Askren.
Askren thought this would be an easy match, since he had fought seemingly much stronger opponents in the UFC, but Askren ended up losing the fight by knockout as well. More recently, Paul also fought another UFC fighter, Tyron Woodley. This match was much closer than any other fight, with Paul barely winning, but this still Woodley. He asked Paul for a rematch.
In the rematch, Woodley was knocked out cold in the sixth round. Paul has now stated (possibly in jest) that he will quit boxing and join the UFC if the president (Dana White) agrees to make the wages and conditions for the fighters fairer, which is something people have talked about several times in the past, since fighters are treated poorly in the UFC compared to many other sports.
Whether or not you like Paul, his fights have brought boxing back, making it more popular than it has been in a long time. Nobody is sure if he will stop aiming trash talk and challenges at just about everyone, or if he will continue being the "villain" of the boxing world. All we do know is that it would be interesting to see a future fight between Jake Paul and one of the first fighters he called out: Connor McGregor. The outcome of this potential fight is uncertain. Some hope it turns out in McGregor's favor, while some hope Paul can prove himself against an even more seasoned fighter. Either way, Paul has done something that no boxer in recent decades has been able to do: make the sport relevant again.