Myriad Memories of Cross Country and Class with Coach Stoughton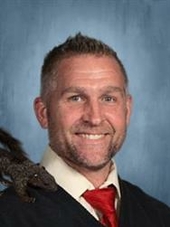 For over a decade, Grant Stoughton taught the wisdom of English and the dedication of cross country, and he managed to work in a Harry Potter reference into almost any conversation. More recently, Coach Stoughton took the helm with Coronado's Cross Country, and he created a welcoming team where anyone could enjoy the self-inflicted pain that is running. Coach Stoughton was a constant positive — and oftentimes sarcastic — pillar of running and teaching at Coronado. Unfortunately, this new year brought the news that Coronado would be taking Cross Country in another direction, and Coach Stoughton moved to Rampart High School to continue coaching and influencing so many. He impacted so many throughout his time at Coronado. There are so many more students who remember his guidance; here are just a few past and current students recounting his incalculable contribution to Coronado.
"Stoughton has been one of my biggest role models since I've known him. I credit him with a lot of my growth as a person. He will always be my coach. He is an incredibly dedicated and hardworking and dedicated person. He is so supportive of everyone, and high school would not be what it is without him." – Amelia Echols, Class of 2023
"During my time at Coronado, the cross country program became my home and without it, I wouldn't be the person I am today. I'd like to thank Coach Stoughton for his dedication and patience, and unshakable belief in both his students and his athletes. He brought out the best in all of us." – Maddy Morland, Class of 2019
"Coach Stoughton and all of the XC coaches have helped shape me into the person I am today. I'm grateful for all of the lessons they've taught me." – Connor Strizich, Class of 2018
"Coach Stoughton has been a huge part of my life for the past 4 years. I always felt like his room was a safe place for me. While I may not have found a place in other activities around school, I found one in cross country. Despite not being a top runner, Stoughton was always there to cheer me on and make sure I was doing my absolute best. Coach Stoughton has brought so much joy and positivity into my life and I can never repay the memories his hard work and dedication has brought me." – Bri Caspari, Class of 2022
"Coach Stoughton was my biggest supporter and advocate throughout my high school career. He pushed me to be a better athlete and he was a positive role model for everyone on our team. My high school experience wouldn't have been the same without him and the other track and cross country coaches." – Isabella Janney, Class of 2019
"I know with certainty that I would not be the person I am today without having you as a coach. You have shaped me as a runner and as a person. I'm so thankful for the community you've built and everything you've done for me." – Lauren Strizich, Class of 2020
"Stoughton has not only been a coach for the cross country and track program at Coronado. He has been a Coach for academics, life advice, college decisions, and an everyday positive influence upon many. His coaching does not stop with academics, nor does his mentorship. He has coached many students on and off the track upon good decisions making, and athletics. Coach Stoughton is a well rounded man who will coach anyone." – Miles Medina, Class of 2021
"When I came into Coronado and joined cross country, it started as just a way for me to hang out with my friends. That hasn't changed. But Coach Stoughton changed the main focus of the sport for me. He fostered a love for running, and developed a culture I think is second to none in the Coronado community. He took time to make me "remember I'm tall," and developed me into a great runner, dropping my time from a 23 minute 5k to a 19 minute one. I'm a better runner than I ever thought I could be. But most importantly, I'm a better person." – Alex Sedelmyer, Class of 2022
Thank you Coach Stoughton!