Tom Brady retires after 22 years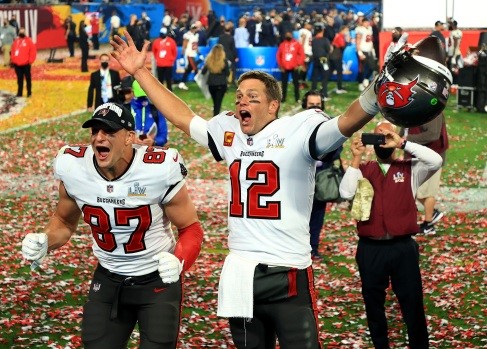 We have lost the best quarterback of all time after 22 years. He threw 5,316 passing yards, and 624 touchdown passes. As Tom Brady's retirement comes to an end what will happen in the future to come. Some believe that no one can fill his shoes, but some people also think there will be someone to fill his shoes with greater accomplishments. He ends his playing time with 22 seasons, 20 with the patriots, and 2 with the Buccaneers.
Brady played a total of 318 games with an all-time record of 243-73-0. Also, with going to the Superbowl 10 times and only losing 3 games, you can say he has been one of the best quarterbacks we have ever seen. He was named MVP five times in his career. While he was not the strongest or the fastest quarterback in the NFL, he still showed tenacity, his intelligent playmaking abilities, and the remarkable leadership he provided under pressure. As Mr. Kasten, our industrial technology teacher, said, "There are probably greater athletes out there but I don't think someone can fill that place." As with that, I'm sure so many people can agree that there always have been greater athletes out there, but the dedication Brady has shown throughout his years and the 100 percent he gave every game is an indication that he's always been on the list of some of the best.
At this time Tom Brady has decided to retire and leave his playing days in the past and work on his future. There are many questions on why he would retire right now and what made him think to do so. Brady always pushed off retirement talk, as he said in 2015 he wanted to play 10 more years. But when the summer came last year, he had started acknowledging in an interview with Oprah Winfrey in June that retirement was on his mind. Brady said, "I think about it more than I used to, and that there is definitely an end coming." Knowing that he said that, it can make a person have an understanding that he is getting old for the sport, and he should start focusing on his family. When he announced his retirement, it was on multiple of his social media accounts saying, "I've done a lot of reflecting the past week and have asked myself difficult questions. And I am so proud of what we have achieved. My teammates, coaches, fellow competitors, and fans deserve 100% of me, but right now, it's best I leave the field of play to the next generation of dedicated and committed athletes." His announcement came forth over the weekend that he would be walking away from the game. Seeing one of our best quarterbacks of all time can be an emotional thing but knowing he's retiring for the next generations to play shows that he now wants to focus on a normal day-to-day life now.
With that, I can conclude that this is a good time for him to retire because he is still in good shape, meaning has had no life-altering injuries, and he's leaving the field with a big mark, and people with always remember what he did in the sport. Starting out as a mediocre quarterback to becoming one of the greatest the NFL has ever seen just shows that maybe in the future someone can also do what Tom Brady has done. Brady will be remembered as one of the greatest to ever play in the NFL. He was an incredible competitor and leader who displayed sustained excellence year after year. He is closing the chapter on his playing days and opening a new one for his coming future.