Mrs. Ann Schulzki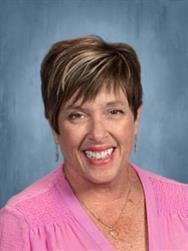 Mrs. Ann Schulzki is the current Gifted and Talented Coordinator at Coronado. She's taught here for 29 years and has worked in education for a total of 37 years.
She says her most influential co-workers at Coronado are retired teachers, Mrs. Ganstine, Mr. Hardwicke, and Mr. Gottieb and current Coronado teachers Ms. Ury and Ms. Jacobs, who are both in the social studies department where Schulzki started and spent a majority of her career.
When asked about her favorite part of teaching at Coronado, her answer reflected on the connections she's made here. "I have loved the interactions I've had when I taught social studies and classroom activities and extra-curricular activities like History Day, Mock Trial, and Future Problem Solvers," she explains.
"My favorite activity in and out of class was Mock Trial, although I really enjoyed teaching World and US History and Government. I also liked [working] with the Future Problem Solving team [to create] the means for a gender-neutral bathroom," she said, expressing her large involvement in the Coronado community.
Mrs. Schulzki taught many classes, including World History, US History, Government and Law, US Government, and AP World History. She also helped sponsor or coach the previously mentioned National History Day Competition, Mock Trial, and Future Problem Solvers.
With a total of 37 years in education, you'd think that Mrs. Schulzki would've had many changes in her experience working with students throughout the years, but her opinion differs. "Technology and COVID have… impacted education the most in my career, but really, kids are just kids no matter if I taught them in the 1980s or today," she reflects.
Mrs. Schulzki's favorite memories at Coronado "always [have] to do [with] when I see a kid really get excited about learning something and they find their passion." Throughout her career, she says she's learned about the value and importance of public education to everyone and thinks that knowledge is worth passing on.
Looking into the future, Mrs. Schulzki says her retirement plans for next year include "definitely working out, traveling, joining a book club, helping the new GT teacher if she needs some support, and giving back. I'm a WIP – Work in Progress!"
Mrs. Schulzki will be incredibly missed at Coronado, and we wish her all the best in her new retired adventures!