Advice on Scheduling Classes Next Year
Scheduling classes for your next year at Coronado High School can be extremely stressful and confusing, but there's no need to worry because your counselors have your back. It is time to think about where you are credit wise, and what you look forward to taking next year.
Depending on a student's grade level will determine who a student should talk to about their future classes. One of the more reliable options is to go talk to the counselor assigned to your grade level. Coronado's Freshman Counselor Ms. Bjork stated, "One of the most common scheduling mistakes when picking your classes is not looking at your credits or graduation requirements. Students need specific classes and credits to graduate. By scheduling an appointment with me or your grade level counselor I could tell you what kind of credits you need and what classes you need to take or retake."
Students should start thinking about what classes they would like to take now, or as soon as possible just to be ready. Course requests will most likely be some time in February or March; Counselors will join students in one of their classes to help them get their new schedules going. Questions can be asked, and support will be there for the students.
Specific classes are required by some colleges, or even just sometimes recommended. "There are some colleges where you want to have those two years of world languages, for a four-year college. It's the same if you want to get into engineering if you want to do that for two years, or if you want to get into video production you know start now and go for the next 2 years. You want to really know what kind of career field you want to get into, so that we can plan them out right now. The sooner you know the better," said Mr. Mann, Coronado High School sophomore Counselor.
Just planning alone is very important. It is not just about what you want to do; it is okay to explore a little, but don't just pick easy classes to graduate and just get through high school. High school is not an endpoint. The more education you have the more money you can make, and the more comfortable you can be.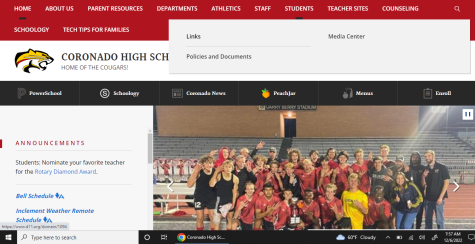 Go to the Coronado Website on any computer or laptop then click students>Links!