The World Cup Behind the Scenes: Controversy, Contention, and Corruption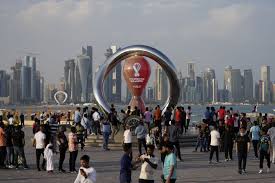 The 22nd World Cup commenced the 20th of November, and with it a slew of controversies and complications. From bribes and coercion inside of FIFA to human rights violations in Qatar, and suppression of players advocacy efforts from FIFA and Qatar alike, this may be the most conflicting World Cup in history.
To begin with, Qatar is infamously an obstinate nation against homosexuality and has a penal code criminalizing acts between same sex couples. In protest of these conditions, the captains from England, Germany, and France planned on wearing armbands with the phrase "One Love" and colors resembling the Pride Flag on it. This was quickly put down by FIFA Officials after the captains were wanted they would be yellow carded for wearing a "non-FIFA-approved" armband. This is a serious threat, especially at this level of soccer and competition, because if a player is given two yellow cards, they will not be eligible for the next match they play. After this, the German team lined up in their traditional formation before their match against Japan, and each member of the starting 11 covered their mouth with their right hand for the picture taken before each game. This was most likely a rebuttal at the censorship the teams competing are facing while trying to speak out against Qatar's human rights violations and criminalization of homosexuality.
Along with this, the choosing of Qatar to host the World Cup was riddled with backlash, as Qatar was previously lacking in large stadiums that would be able to host the amount of people necessary for an event as large as the World Cup, "meaning they had to build seven new stadiums and rehabilitate an eighth. [In order] to host millions of fans, Qatar accelerated the construction of an entire new city and a subway system to support it. The airport [was also expanded], and [Qatar even] constructed new residential buildings, hotels and more." Overall, a staggering $220 billion dollars has been spent on the construction and preparation for the World Cup, making it the most expensive World Cup to date.
A prominent problem with this massive construction was not only the substantial cost, but the overwhelming amount of human rights violations that occurred since Qatar won the rights to host the World Cup. Over 6500 migrant deaths have been recorded since 2010, and a large majority of migrant workers in Qatar that have been injured or killed on the job were only in Qatar because of the new World Cup infrastructure needs of the country. The death toll among workers that is directly associated with World Cup construction was 37 until officially announced otherwise as of November 29th by the Qatar World Cup Chief that between 400 and 500 migrant deaths can now be directly linked to work relating to the World Cup. There are obviously numerous discrepancies on how the deaths are being reported and classified, as shown by the considerable jump in deaths reported. With this, the conditions the workers were put through was unequivocally inhumane; Qatar's intense heat was found to be a significant cause of migrant deaths, as the workers were withstanding high levels of heat stress while working outdoors during the summer months. In efforts to cover up these tragedies, FIFA told each of the competing teams to focus on the sport, and not let politics and ideological issues distract them. This earned an indignant response from most European countries saying that "human rights are universal and apply everywhere" along with multiple demonstrations with jersey colors and public critiques of Qatar's ethics from a large group of participating teams.
Predating the 2022 World Cup, PBS illuminates that "an investigation into how soccer officials [were awarding] television and marketing contracts led to the indictment of 25 FIFA executives as they were enriching themselves through the corruption of international soccer. [In 2020], the US alleged that both Russia and Qatar had bribed FIFA members to support their bids to host. [Although Qatar denies allegations of bribing, FIFA released their own analysis that it] flagged almost every asset of the Qatari bid as being dangerous" with the high summer temperatures that eventually led to the rescheduling of the tournament all together to mid-November.
Overall, this year's World Cup has caused major moral dilemmas for each country participating, along with fans of the sport: many people are torn between supporting their teams and protesting FIFA and Qatar's actions. It has brought to light the deep corruption that lies within the federation, and will hopefully spark change within the industry to restructure and prioritize the game of soccer once more over the love of power and money.
Works Cited:
McPhillips, Tim. "The World Cup Is Officially Underway in Qatar. Here's Why It's so Controversial." PBS, Public Broadcasting Service, 21 Nov. 2022, https://www.pbs.org/newshour/world/the-world-cup-is-officially-underway-in-qatar-heres-why-its-so-controversial.
Roan, Dan. "World Cup 2022: 10 European Football Associations Respond to FIFA's 'Focus on Football' Letter." BBC Sport, BBC, 6 Nov. 2022, https://www.bbc.com/sport/football/63533589.