D11 Launches Unified Sports to Help Intellectually Disabled Students Compete in Athletics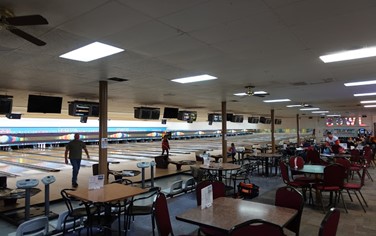 In the 2022-2023 school year, District 11 launched Colorado Springs's first unified sports program. The program was originally designed to help D11's intellectually disabled students get involved with high school level athletics by pairing them up with some of their respective school's student athletes.
Each schools' athletic directors picked student athletes from their respective schools to participate and pair up with students from their special education departments. The district's schools (Coronado, Mitchell, Palmer, and Doherty) would then compete against one another in bowling at Peak Bowling, an alley on the west side of downtown Colorado Springs. The program had its kickoff this year with the schools competing twice in January 2023.
The district has much bigger plans than just those few weeks in January, though. The district announced the plan for next school year: in the fall of 2023 they will partner with CHSAA to make the program sanctioned and give intellectually disabled students a chance to compete in different athletic activities against their fellow district schools and become student athletes.
One of Coronado's student athletes, Jaxon Gutowski, the starting varsity quarterback, and varsity point guard, was one of the athletes from Coronado chosen to participate in the program. He talked about the experience saying, "The first week that we went we just had fun and got a feel for it, but the second week it got pretty competitive… I had a lot of fun. It was nice to have a competition where I didn't want to really beat somebody like in football. It was more like playing with your siblings, just a really good experience overall." And when asked about if he will return next year when they launch the fully CHSSA-sanctioned program he said, "100% that would be a great opportunity."
When fall of 2023 rolls around, it is almost certain that the program will be a great experience for everyone involved from student athletes to intellectually disabled students, and all the way up to D11 administration and staff. The move by D11 is seen as another positive step forward, towards giving intellectually disabled students opportunities and the chance to excel.