What If Festival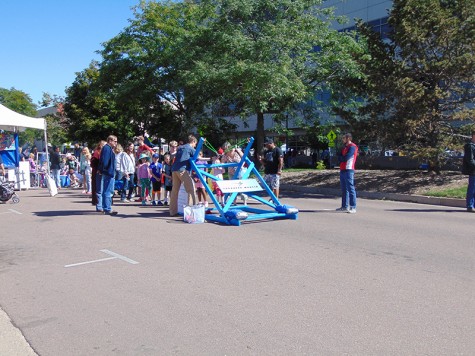 Since 2009, the Imagination Celebration of Colorado Springs has put on the annual What If festival downtown. On September 19th, vendors, artists, companies, and families gathered for a fun day exploring innovation and the question "What If?"
Many groups from all around Colorado Springs were set up playing games that kids and adults alike loved. Odyssey of the Mind, Focus on the Family, TedX, and even Cougars Gone Wired were some of the well known groups represented. They, and others, were playing games such as giant Jenga, robot races and a hula hooping contest. In the words of the representative from the Fine Arts Center, "there's a lot of people around the community that might not know about any of these organizations so it's a good chance for our organizations to also get to be known better".
Art was a common theme of the day, with multiple different forms around the festival. The chalk art located on Cascade Avenue was a favorite of people attending. Artists Brianna and Sophie from the Cheyenne Mountain school group said about the chalk art that "it brings character and without it you wouldn't see so much creativity" and "it gives a chance for local artists to express themselves in a way that the community can really be involved in seeing".
STEM was represented in all kinds of ways around the festival. Two robotics teams represented; Cougars Gone Wired and the team from District 20. Mountain States Droid Builders were teaching engineering and there were many food science groups showing how to eat healthier and grow food.
The What If Festival was a huge success and was fun for people of all ages.  Games and lessons taught kids and adults alike to look at the world around them and ask "What If?".