On October 12 through 14, Cougar Boys' Tennis competed at the individual State Championship at Pueblo City Park. The boys' team finished up their season by making it to the second round of Team State Playoffs, winning the first round against Palmer Ridge, 6-1, and losing the second round against Kent Denver, 1-6.
For the Individual State Championship Tournament, Miles Hoover, Class of 2024, placed third in first singles, Thomas Stewart, Class of 2024, placed fourth in second singles, and Christopher Vasquez, Class of 2024, made it to the round of eight in third singles.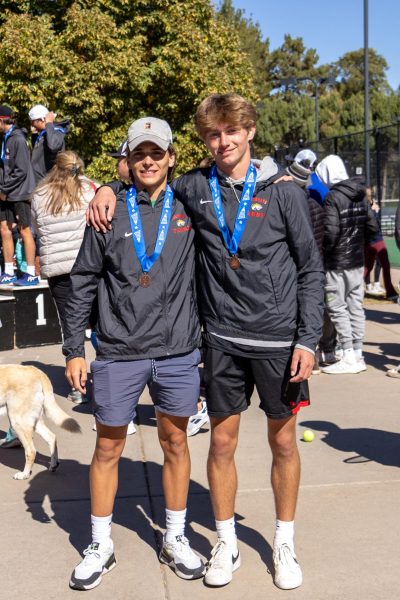 Owen Browen, Class of 2024, and Cody Ross, Class of 2024, tied for fifth in first doubles, Seth Enoch, Class of 2024, and Michael Wojtalewicz, Class of 2025, tied in fifth for second doubles, Landon Houger, Class of 2025, and Elijah Bole, Class of 2025, tied for fifth in third doubles, and Cary Kraemer, Class of 2024, and Stellan Rogers, Class of 2024, tied for fifth in fourth doubles.
The nonstop hard work preparing for this moment for the past three months was beneficial to their success. Their assistant coach, Heather Greene, mentioned at state, "I've been so stressed all season for this moment!" Everyone was hopeful heading to state they knew they had a great chance to place.
In the regular season, Coronado Tennis went 11-2 destroying several league teams 7-0. Their losses were close matches against Cheyenne Mountain and Kent Denver whose programs are known for their fierce tennis teams.
The boys' tennis team stood out to the Coronado community. Coach Lizarraga, who has coached team sports at Coronado for the past 10 years, exclaimed that "the tennis team hasn't been this exceptional in many years!"
Even though Coronado was proud of how their team placed, Miles Hoover was disappointed with his finish: "I feel like I could have won" he remarked, discussing his semifinals loss to a Denver South opponent after his last match. "I was up on the guy 3-1 in the third set."
This was an exceptional season for Cougar Tennis! After the State Championship coach Greene exclaimed that she was "going to miss this group of seniors. They have been one of the best group of kids and parents I've ever coached. I'm going to miss all of them." In 53 years, this has been the best tennis team at Coronado.