Red Revenge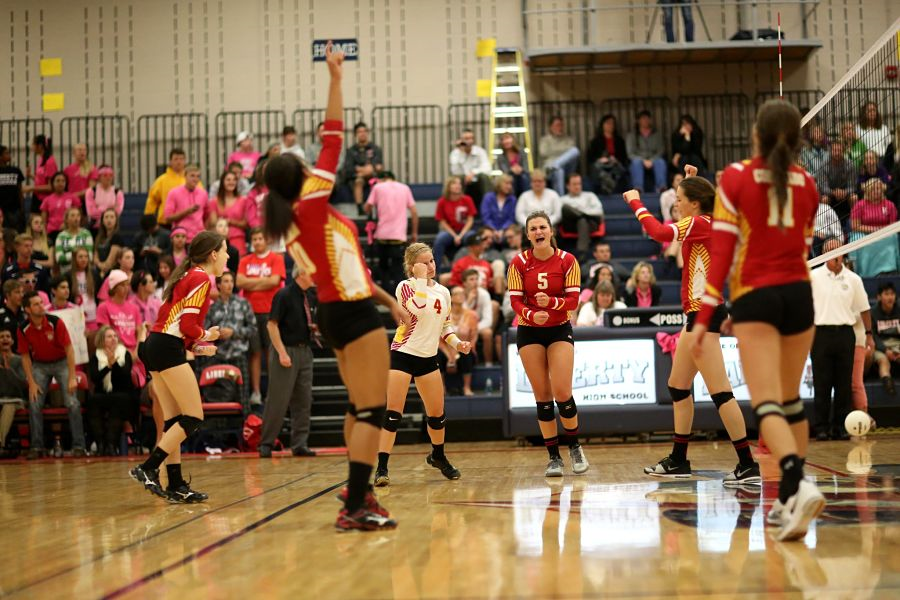 Among the most eventful comebacks in 2015 Colorado Springs Metro League 5A volleyball, Coronado Volleyball overcame a 2-0 deficit to exact revenge on Liberty in five sets.

Following a devastating four set loss against the Lancers on Sept. 29, the Cougars were hungry for revenge, "They came to our house and beat us…that motivated us even more to redeem our loss at their house," said Ashlynn Garcia, 10.
However, the foremost sets of Tuesday's game began the same as the closing sets of the 29th's game ended, riddled by Cougar errors in passing, serving, attacking and communication. The first two sets fell similarly 25-16 and 25-18, the game seeming second in a gym shaking as Pine Creek volleyball (winners of the 5A Metro League title in the event of a Cougar loss) and Liberty fans cheered back and forth across the court.
Despite their deficit, the Cougars started the third set strong, however, profiting off of a first ball kill on point 1 and phenomenal serve receive, eventually grabbing their first win of the night 25-14. The Cougar's margin of win narrowed in the following set, finishing 25-19. The fifth set was an eventful one for the Cougars, at one point suffering a 5 point deficit 12-7 behind Liberty, though after a timeout  rebounding and pulling ahead of the Lancers 14-12. With several lost points, the game was tied up, each team needing only two points to complete their victory.
Following missed serves by either side and several errors and kills by the Cougars, the game concluded 18-16 with a communication error by Liberty and a subsequent kill by the Cougars.
Tuesday's high scorers included Madison Brown, 12, and Mara Abernethy, 10, each with 13 kills, and senior Kaira Smith racking up another 10.  Smith and Delaney St. Pierre, 10, combined for 7 aces, while sophomore Jaelyn Hershberger contributed 5 blocks. Allie Garcia, 12, completed the Cougar effort with 32 digs.
Tuesday's win pushed Coronado up five places in the state 5A rankings, now 24th, as well as keeping Coronado in  the running for the Colorado Springs Metro League 5A title, the championship game occurring Thursday Oct. 26 away against Pine Creek (21) at 6:30.