Men's Swimming Heads to State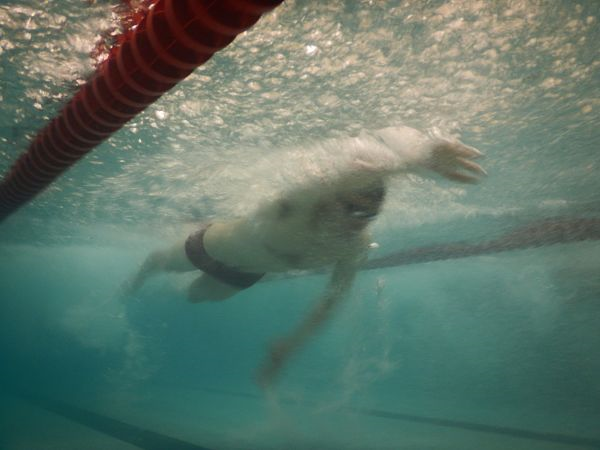 Following the Cougars' second-consecutive 5A Colorado Springs Metro League victory,  and a near-perfect 6-1 season, Coronado will send a small but mighty team of swimmers to the Colorado State 5A Swimming Championships at the United States Air Force Academy. Of the team of 10, sophomore Zac Gerhardt and senior Jordan Dale are the only Coronado natives heading to state, senior Will Chaney, senior Greg Shaw, senior Ben Topper, junior Marley Kaiser, junior Daniel Saks, junior Kieran Lynch, and Andy Aire, all hailing from teamless schools such as CSCS.
Leading the team with two individual state qualifications apiece are Ben Topper, Will Chaney, and Marley Kaiser. Topper, a four-year varsity swimmer at Coronado, qualified 12th of 52 in the 200 Yard Freestyle and 17th in the 100 Yard Freestyle. Chaney drew the Cougars' highest individual qualifying times, ranking fifth in both the 50 Yard Freestyle and 100 Yard Breaststroke. Marley Kaiser qualified 48th in the 200 Yard IM and 20th in the 100 Yard Breaststroke.
Greg Shaw and Kieran Lynch both qualified for the 100 Yard Butterfly, Shaw in in eighth and Lynch in 43rd. Junior Daniel Saks qualified in the 100 Yard Backstroke.
Coronado will enter a trifecta of relays at the state championships: the 200 Yard Freestyle, ranked third, with a time of 1:27.49, within a second of the first and second place times; the 200 Yard Medley, ranked sixth with an entering time of 1:37.02; and the 400 Yard Freestyle, ranked 25th.
Zac Gerhardt, swimming on the 200 and 400 Freestyle relays,  said, "It is a really cool opportunity to go to state and to be one of the kids from Coronado who got to go."
Support Coronado men's swimming at the Colorado 5A Swimming Championships at the United State Air Force Academy on May 20 and 21. Good luck Cougars!