Fall Sports Capsule: Football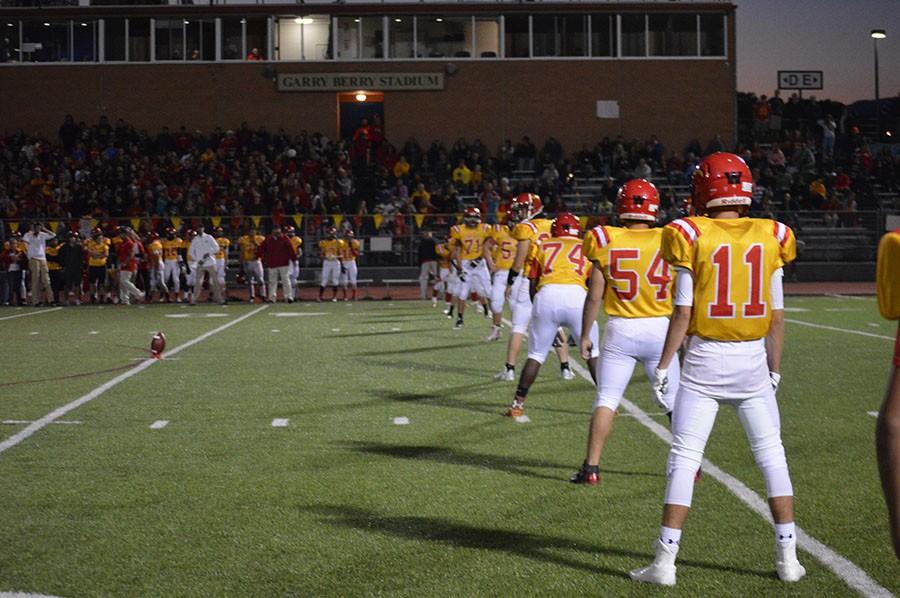 2015 -2016 Record: 1-9
Key Performers: Following last year's transitional season after the graduation of much of Coronado's 2013 3A State Championship team, Coronado football enters Coach Rob Wetta's second season at Coronado with high prospects, equipped with an older and more experienced team. Shepherding Coronado football's effort to make the playoffs is junior Toby Smith, returning for his second season as starting quarterback, having had 633 passing yards on 70 completed passes in the 2015-2016 season. Leading Coronado's offense is strong safety and running back Tyler Clark, a member of the 2015-2016 2A State Championship-winning Palmer rugby team, who lead the Cougars in 2015-2016 receiving yards, second in rushing and all-purpose yards only behind graduated 4A All-State Second Team senior Marquis Arrington. Other forces on offense include Justin "Gronk" Dwinell, 11, returning to Cougar football better than ever following a season-ending collarbone injury in the fifth game of the 2015-2016 season. Dwinell scored nine touchdowns in a single game with the Cougars during a summer 7-on-7 tournament at CU-Boulder. The junior finished his abbreviated 2015-2016 season with 64 all-purpose yards, 10 rushing and 54 recieving yards. On defense, the Cougars are lead by senior outside linebacker Nikko Portillo and junior tight end/offensive linebacker Brock Stinson. Portillo tallied 56 total tackles in 2015, while Stinson, another member of the Palmer Rugby team, achieved 237 all-purpose yards, 26 solo tackles, and 47 total tackles. A massive asset to the Coronado team is the gained experience of not only Clark and Stinson, but athletes Dillon Marlow, 11, and AJ Smalls, 11, other rugby state championship  winners.
Opener: 7:00 P.M. on 9/2 v. Aurora Central at Garry Barry Stadium
Home Games: All Coronado home football games are held at District 11's Garry Berry Stadium on the Wasson Academic Campus, Cougar home games include 7:00 P.M. v. Aurora Central on 9/2, 9/23 v. Pueblo South at 7:00 P.M, 10/1 v. Pueblo West at 1:00 P.M., 10/22 v. Montrose at 1:00 P.M., and 11/4 v. Littleton at 7:00 P.M., as well as the Cougar football 2016-2017 season kick-off on 7 P.M. on September 2 v. Aurora Central at Gerry Barry Stadium.