Fall Sports Capsule: Volleyball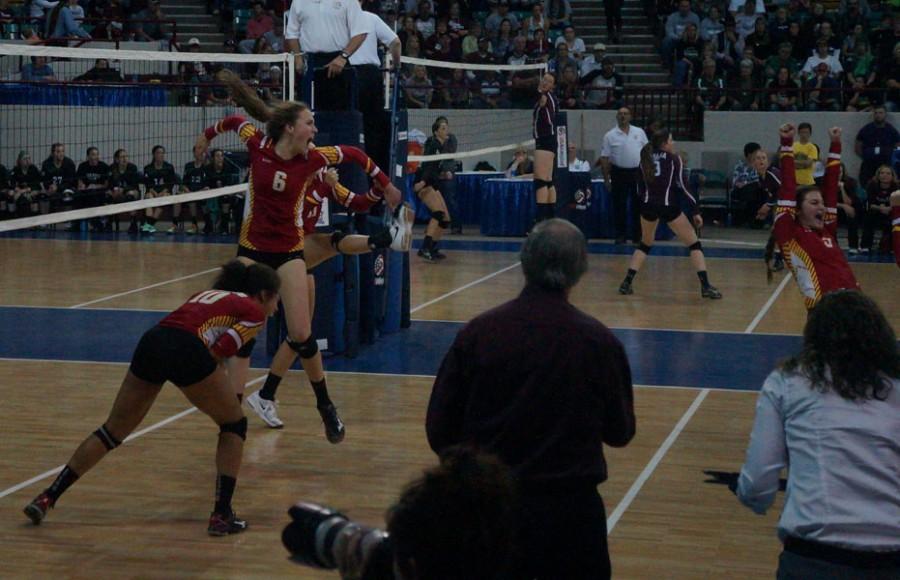 2015-2016 Record: 20-7, 5th in Colorado 5A Volleyball
Key Performers: Coronado volleyball enters the 2016-2017 season after a top-ten statewide finish in the 2015-2016 season, coming in at fifth in the Colorado 5A State Tournament. Headed by first year head coach Stormie Wells, Coronado volleyball returns 9 2015-2016 letterwinners to the varsity program in 2016, 8 juniors and a single senior. Heading Coronado volleyball's defensive efforts in 2016 is junior libero Ashlynn Garcia, boasting 12 aces and 73 digs on the  2015-2016 season, 18 of which occurred in the state tournament. Entering her second year as varsity setter is junior Delaney St. Pierre, racking up 109 kills, 48 aces, 141 digs,  and 652 assists on the 2015-2016 season. In the front row, the Cougars are lead by juniors Jaelyn Hershberger and Mara Abernethy; Hershberger, moving from middle to outside hitter in the summer between the 2015-2016 and 2016-2017 seasons, accounted for 57 total blocks, 84 kills, and 55 digs in the 2015-2016 season. In the off-season, Hershberger, a two-sport athlete, placed eighth in the Colorado 5A State Track and Field Meet in triple jump. Abernethy returns in her third year as a varsity middle to 88 total blocks and 140 kills on the 2015-2016 season. The Cougars are aided in their 2016-2017 efforts by the addition of 6'3" right side Cami Nelson, 11.
Opener: Away at 7:00 P.M. on 8/26 v. CSCS
Home Games: All Coronado volleyball home games will occur in the Coronado main gym, home games include: 9/1 v. Mountain Vista at 6:00 P.M., 9/6 v. Rampart at 6:00 P.M., 9/15 v. Air Academy at 6:00 P.M., 9/22 v. Cheyenne Mountain at 6:00 P.M., 10/4 v. Liberty at 6:00 P.M., 10/13 v.  Doherty at 6:00 P.M., and on 10/20 v.  Pine Creek at 6:00 P.M.