Coronado Football: Inches From the Sky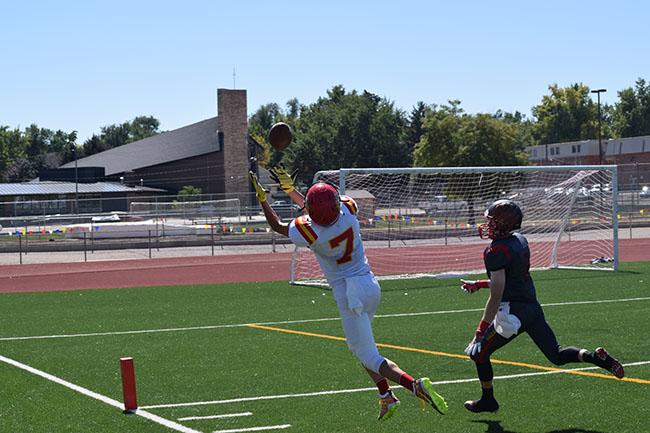 Shea Ward, Staff Writer
September 16, 2016
On Saturday, September 10th, the Cougars took on the Skyline Falcons, in Longmont, in a 3 hour battle, unfortunately ending in a loss for Coronado. Even though this is only the second game of the season, the defeat brought the team a great deal of distress.
"The game was really emotional because it was going well, and then we just lost it. We had three false starts, back to back, in the same series, and that's where we let the other team get the better of us. Still though, I think that this is something that we can recover from, and we can head into our game against Sand Creek in confidence," said Aiden Ward, 11.
In the game the Cougars had 108 rushing yards, had 202 passing yards. Both Isaiah Outler, 10, and Franklin Thurlow, 11, had one interception. Deegan Foster led the team with 8 solo tackles.
"If I could describe the game in three words, they would be stupid, disappointing, and aggravating. It was a close game, we should have won," said Deegan Foster, 10.
The team was two points away from their first win of the season. Coronado now stands at place 140 in state rankings, moving them up 1 place from last week. The Cougars didn't win, but they at least scored on offense, and the game ended 28-30.
"I'd say that the biggest highlight of the game was Justin's touchdown catch. You know, we didn't win and that's really disappointing, but I'm glad that our offense was able to step it up for this game and finally start scoring," said Foster.
Did you miss the Cougars at Skyline? There are still plenty of opportunities to go watch them play. Here are the upcoming games for the season:
9/16 7:00p @ Sand Creek (Colorado Springs, CO)
Location: Sand Creek High School
9/23 7:00p Pueblo South (Coronado Homecoming Game) (Pueblo, CO)
Location: Coronado High School
10/1 1:00p Pueblo West (Pueblo West, CO)
Game Details: Garry Berry Stadium
10/7 7:00p @ Palmer (Colorado Springs, CO)
Location: Palmer High School
10/14 7:00p @ Vista Ridge (Colorado Springs, CO)
Location: Vista Ridge High School
10/22 1:00p Montrose (Montrose, CO)
Location: Coronado High School
10/29 6:00p @ Rampart (Colorado Springs, CO)
Game Details: District 20 Stadium
11/4 7:00p Littleton (Littleton, CO)