Coronado Football: First Win of the Season
Cougars defeat Sand Creek in a last second effort.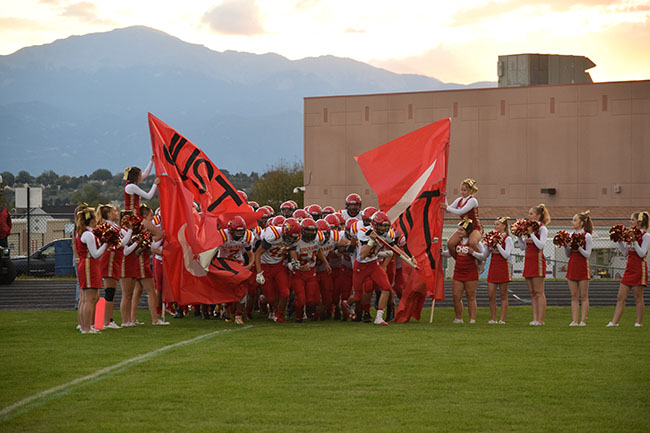 Shea Ward, Staff Writer
September 20, 2016
Last Friday, Sept 16, the Cougars faced off with the Sand Creek Scorpions and brought home their first win of the season. Coronado walked away with a victory due to Justin Dwinell's, 11, touchdown and the two touchdowns that Jordan Evans, 11, scored, with the game winner coming in the last 40 seconds. The final score was 24-21.
Evans had a total of 21 carries, 2 touchdowns and 179 rushing yards in Friday's game alone. While he is proud of his accomplishments, he knows that he wouldn't be where he was without his team or coaches.
"I ran about 40 yards when I made my first touchdown. For my second one, I remember there was about 47 seconds left, and I ran it in. I know that I put in the effort for those two touchdowns myself, but there was a lot of team effort put into this game. I went out, just played hard, and contributed as much as I could, and every teammate did the same as me," said Evans #28.
Another contributor to the team's win was the incredible school spirit of the Coronado crowd. The cheerleaders led them in the notorious cheers, and showed brilliant enthusiasm. When the game was over, the crowd stormed onto the field cheering, and rallied around the team to congratulate them.
"Our win against Sand Creek not only brought spirit back to Coronado, but also the support we need to show for each other. I am so proud of our student section and our football team. I have never seen this amount of enthusiasm at Coronado, and I think we can only get better from here! The best feeling was running onto the field, hugging, and congratulating our team. I love our team, and I am excited for what the rest of the year will bring," said Clara Thompson, 11.
The Cougars walked away with a strong sense of accomplishment, and they feel more than prepared to face Pueblo South on Friday.
"It's good that we finally got to experience a victory, and I think that boosted our confidence. It's going to help us play Pueblo South knowing that we've already got one [win] under our belt, and we can do that again," said Evans.
Be sure to come show epic Cougar Pride at the Coronado Homecoming Game on September 23rd, at Garry Berry Stadium, the game starts at 7:00 pm.