Beulah Hill Fire Burns for Almost a Week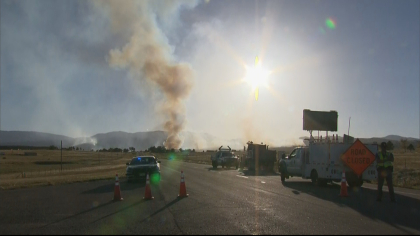 Once again, the threat of fire is looming over areas near Colorado Springs. Beulah Hill Fire started on Oct. 13, in Beulah, Colorado; a small community located Southwest of Pueblo on Highway 78. On the first day, the fire was about 3,000 acres, and forced evacuations of about 1,000 people. Because of Colorado's dry climate and the high winds, the fire grew in size to 5,000 acres on Tuesday. The conditions of the fire were so unpredictable that close to 950 more people in the town and in surrounding areas, such as Hurricane Ranch were forced to evacuate from their homes and travel somewhere safer. A local middle school is being used as a shelter for people who did not have anywhere go to. Schools have been closed in Beulah, and students who attend other District 70 schools who live in Beulah have been excused. No one has been injured due to the fire, but 14 structures were destroyed by Tuesday night.
Teams of about 400 firefighters, along with a team of helicopters and seven water-carrying aircraft, are working hard to contain the fire and keep more structures and people safe. The goal established on Tuesday and Wednesday was to have the fire contained by Wednesday night; although that goal was not reached fully, the fire is as much as 50 percent contained, and some residents were even able to return to their homes on early Thursday morning. Hopefully, the fire will be contained and will burn out quickly, and the community of Beulah will be able to return to their everyday life.