Football Sweeps Palmer 42-25 in Terror Homecoming Game
The Cougars hand out a devastating loss to the Terrors at their own homecoming game.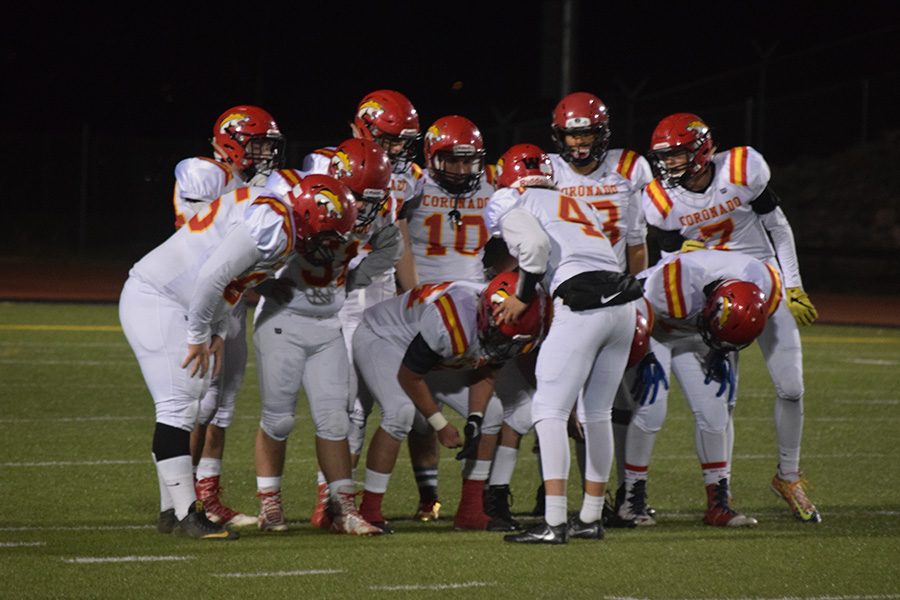 The Cougar Daily Staff
October 13, 2016
The Coronado football team defeated the Palmer Terrors 42-25 at the Palmer homecoming game.  Sure, both schools call Garry Berry Stadium home, but Palmer had the home field advantage and the bigger, nicer stands.  Still, Coronado came prepared to out play and outshine their D11 rival by declaring the game a White-Out and providing the fans with white t-shirts to drown out the brown and yellow spirit.
The Cougar players did more than drown out the other team, they dominated the game at all levels.  The freshmen and JV teams also showed up Palmer during their spirit week.
In the varsity game, Toby Smith, 11, threw for over 200 yards and a touchdown to Justin Dwinell, 11, who, on only 7 receptions, had 183 of Smith's 216 yards.  Dwinell averaged 26.1 yards per catch and is almost a guaranteed first down whenever he touches the ball. Smith's passes averaged 19.6 yards and clearly the Terror defense couldn't keep up.
Smith, a he second year varsity quarterback said, "It felt good to beat a team that we all knew we could beat and, not only that, but we won by over 20 which was a first for me as a Coronado varsity player. We have a lot to prove in the next couple of weeks and we look forward to getting some more wins."
The ground attack, interestingly enough, recorded exactly as many yards, 216, as Smith dealt out in the air.  Four Cougars rushed for positive yards and were lead by Brian Maestas, 10, and his 91 yards and one touchdown.  Tyler Clark, 11, however, only totaled 38 yards, but found the end zone 3 times out of his 11 carries.
Clark said that "it was a great team win.  I'm very grateful for being up front on the line with the team."
On the defensive side of the ball, the Cougars gave up plenty of yards, 404, but could count on a tough stand as Palmer approached the end zone.
Gavin Cade, 12, lead the D with 10 tackles, followed by Raiden Mares, 12, with 8 tackles and a pick.  Brock Stinson, 11, also had an interception, robbing Palmer of the ball, the chance to score, the chance to cheer in the stands, and maybe a little happiness while giving the Cougars something else to celebrate at the White-Out game.
This is the second win for the Cougars who take on Vista Ridge on the road on Oct 14 at 7 PM.  Keep it up, Cougars!