Lady Gaga Super Bowl Show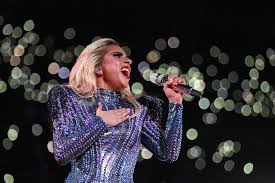 There were three teams that garnered fan support at the Super Bowl Ll, the Falcons, the Patriots, and the Pepsi Halftime Show. While people rooting for one of the two football teams may have either celebrated or mourned, no one rooting for the Halftime Show was disappointed. The show began with  pop icon Lady Gaga standing on top of the NRG Stadium, singing "God Bless America/This Land is Your Land" while drones flashed in red, white, and blue around her. The performance required over 300 Intel drones, and was filmed before the actual Halftime show, and played before the live footage of when Gaga actually performed. She left audiences stunned when she bungee jumped off of the roof to her elevated stage, where she sang two of her many hits, "Edge of Glory" and "Poker Face". The performance was amped up even more when Gaga sang "Born this Way", "Telephone", and "Just Dance" on a platform closer to the audience, along with many talented back-up dancers. She sang "Million Reasons", accompanying herself on a piano, and finished with "Bad Romance", one of her most popular songs.
Reactions to her performance have been mixed, as any reactions to any show would be. Many people were fans of the Halftime show, especially when taking the more recent performances by Coldplay, Bruno Mars, and Beyonce in 2016, and Katy Perry in 2015. However, many people were still critical of the clothes that Gaga wore. There were many people who said that the clothes that she wore were too revealing of her body, which was considered to be too fat by some people.
There were no other performances at the Halftime show, but the performances before the game were spectacular as well. Phillipa Soo, Renee Elise Goldsberry, and Jasmine Cephas Jones from the hit musical Hamilton took the stage to sing "America the Beautiful", and made a controversial move by adding "and sisterhood" to the line "and crown thy good with brotherhood". Afterwards, Luke Bryan sang the National Anthem.
The Super Bowl is a tradition in American families; it's a yearly time for people to come together for parties and fun. Just when a fight might be brewing over teams and who is winning, the Halftime show steps in to bring families together using music and incredible performances. Lady Gaga's show did exactly this; it helped everyone watching to think about what was more important – unity.