Saint Petersburg Train Explosion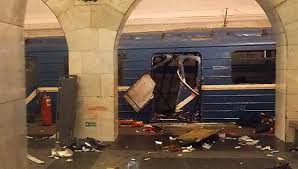 On 4/3, an explosion occurred in the Saint Petersburg metro between the Sennaya Ploshchad and the  Tekhnologichesky Institut metro stations. The explosion killed ten people and injured an estimated fifty. The explosion occurred at 2:20 P.M. as the the train was leaving the Tekhnologichesky Institut station. A second bomb was placed in another station but failed to detonate.
Based on evidence collected, Kyrgyzstan born twenty-two year old man, Akbarzhon Dzhalilov, was named as the prime suspect of the bombing. The Russian Prime Minister, Dmitry Medvedev, labeled the bombing  as a terrorist attack and the Investigation Committee of the Russian Federation is investigating the bombing as such but are also keeping an eye out for other possible motives.
Mourners have placed candles and flowers in memory of those who died due to the explosion at the Sennaya station. The country held three days of mourning for those who died in the attack. Russia is still on high alert for the possibility of another attack. This is the latest in several terrorist attacks that have taken place in Russia and mirrors previous attacks both in Russia and across Europe. Many terrorist bombings in the past have targeted train stations due to the potential of high injury and mortality. This attack has added to the already heavy tensions in Europe caused by similar attacks.
The U.S. may sit an ocean away from Russia, but the attack still has an impact on our country. Such events add fuel to the fight against terror as well as animosity toward  Muslim immigration, anti-immigration, and Muslim politicians. It also shows the pattern of terrorists attacking train stations around the world . How America will be affected by this attack may not be as large as in Russia, but it still has a ripple effect on society and politics.