America Can Do It!
Despite growing tensions, American citizens should remain calm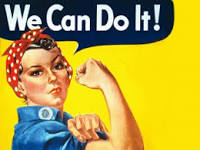 Most of the American public is aware of the multi-layered issues in international relations that America is dealing with these days. Looking at all of these, including the Syrian bombing, or threats from Russia or Korea, can be incredibly daunting. Americans, including teenagers and young people, are worried about what will happen next, and if those next steps will mean war. There is a general consensus among the American public that a war could end in utter disaster and destruction. The prospect is terrifying, but there are steps that  individual Americans, and Coronado students, can do to  keep hope and move forward in these troubling times.  
The first and most important thing to do is to be informed on the subject. Before you can worry about what's happening in the world, it is key to understand it. For information on the conflict, and what has happened in current events, refer to this article on the Cougar Daily: https://cougardaily.org/5118/showcase/us-missile-attack-against-syria/ . Also find reliable news sources, and read about the beginnings of the conflict, and what major political figures are saying about the issue. To take an extra step in understanding the international issues, go to some of the meetings of International Awareness Club, and engage in discussions.
It seems to many that we could be engaging in a war with North Korea, based on reports from the New York Times saying that as North Korea increases nuclear tests, the American government prepares for the worst. The New York Times is one example of mainstream media following the developing story, but the increasing coverage of a possible war also increases public thoughts of conflict. As a student, it is important to recognize when something is a real threat, and when it is only hype. Even if you are one of the people believing that war is imminent, talking about fear only increases a common sentiment of fear, and a fearful nation is prone to making hasty decisions that end in disaster.
America's wars in the past may not measure up to the gunpower of this looming conflict. We have never experienced this kind of military advancements, and it has been many years since a threat of world war. But, in the past, America's citizens and military have rallied together for causes, and it would be important to do something similar this time. It may be distressing to see the path that America is taking, but having hope remains key to the success of America, no matter the choices our leaders make. This country runs on the voices of its people, and needs its citizens to understand that life must go on, and we must keep hope in our life, no matter the circumstances.