Terry Martinez Receives Coronado's West Side Award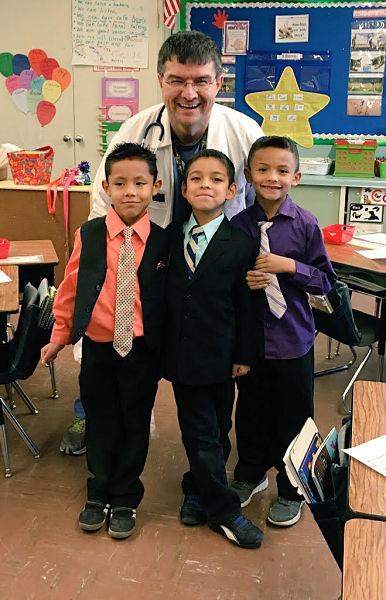 Awarded Coronado's 2017 West Side Award, Terry Martinez is a 31-year District 11 veteran with deep ties to Coronado and the West Side Community.  Though known best for his tenures as the principal of West, Rogers, and Washington Elementary, Terry Martinez has actually spent the majority of his life in District 11 and on the West Side of Colorado Springs.
Born and raised in Colorado Springs, Martinez attended District 11's Lowell and Garfield Elementary Schools, Garfield Junior High, North High School, and briefly, high school in Florence, Colorado, before graduating and heading to University of Northern Colorado to pursue his Chemistry and Teaching Degrees.
Martinez moved back to Colorado Springs in 1986, having received his degrees, and started his teaching career at Mitchell High School as a chemistry instructor. During District 11's initial bond issue in 2000, Martinez worked in the district administration's tech department before being hired as an Assistant Principal at Rudy and Patrick Henry Elementary Schools. Martinez's first appointment as a Principal was in 2005 when he was appointed principal of Washington Elementary. When Washington closed due to dwindling student numbers, Martinez opened D11's newest elementary school, West Elementary School, in Old Colorado City.  In 2013, Martinez was directed to move to Rogers Elementary, from which he retired last spring.
As a teacher, Martinez's favorite age to teach was second grade, because the children still loved their teachers, were able to have conversations with him and understand his jokes, but still had "lots to learn." Martinez remembers his 31 years in the district happily, his fondest memories being his "years as a principal on the West Side", "being in the [Coronado] Homecoming Parade" and "being on stage to give my girls their diploma[s]."
While teaching and leading on the West Side and D11, Martinez put down roots on the West Side of Colorado Springs with his family: Martinez and his wife, Jennifer, buying their first home on the West Side in 1992, and watching their three daughters Katie, Mikaela, and Courtney, attend Coronado. During their time at Coronado, Martinez supported his daughters in their involvement in AP and CU Gold classes as well sports, robotics, and cabinet, "they truly had the best of all worlds," said Martinez of his daughters' experience, "…community, challenge, and excellence! My girls were in Coronado from 2007 [until] 2017. We loved the decade we spent at Coronado."
Martinez is far from removed from the West Side community in retirement, beginning a remodel on his original home on Pikes Peak, and of 8/24, running for the State House of Representatives in House District 18 (encompassing Manitou, Old Colorado City, and downtown Colorado Springs).  Martinez, if elected in 2018, "look[s] forward to serving the West Side at the legislature," and intends to focus his attention on his life's work, education, as well as fostering economic growth in Colorado, and creating a "healthy and vibrant Colorado for families."
On being informed he was Coronado's West Side recipient, Martinez said, "when I received the phone call, I was overwhelmed with pride! It is a tremendous honor and recognition." Coronado principal Darin Smith said, "Terry has been a strong contributor our West Side of Colorado Springs for the 20 plus years. " Mr. Martinez will be recognized during half-time at Coronado's homecoming football game on 9/15. Coronado thanks Terry Martinez for his indelible contributions to not only the West Side community but to the entirety of District 11.