Cougars Battle Back Despite the Forbidding Weather
Giving up points early in the game against Widefield, Coronado continues fighting until the end.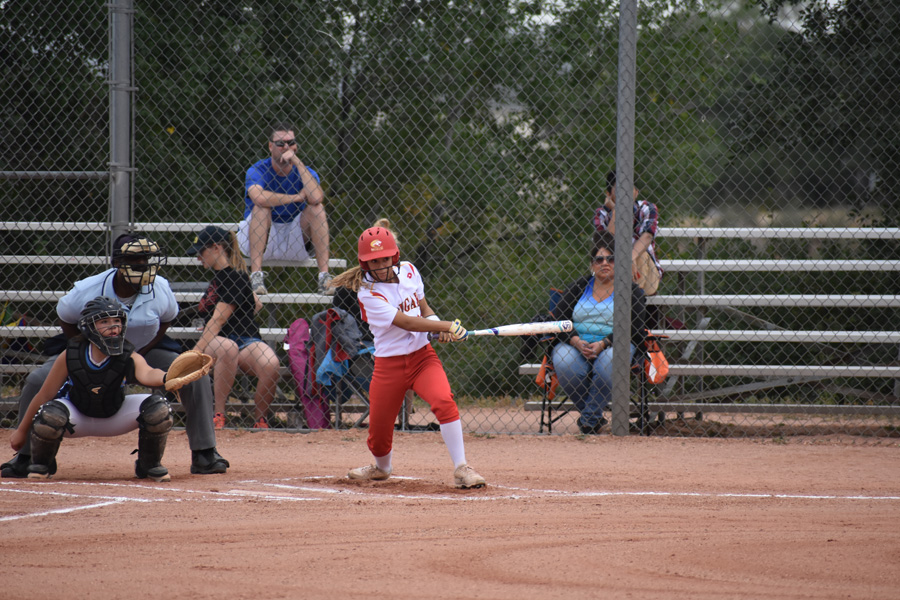 Hannah Besse, Staff Writer
October 3, 2017
The clouds turned a menacing color of grey, but that did not stop our Lady Cougars from putting up a fight at last Friday's softball game against Widefield High School. Although Coronado could not quite capture the win, they put points on the board with the final score being 8-15 Widefield. The Cougars got off to a slow start, but soon found their rhythm and began catching up.
Leading the batting average for Coronado was Marissa Daily, sophomore, who had an outstanding game batting 3-4. Senior Adrianna Harris and sophomore Navaeh Santisteven also had great games with  a 2-4 batting average on the night. Both Adrianna Harris and Madeline Leahy had two runs against Widefield with others contributing to the 8 runs that the Cougars scored. Grace Leahy, senior, who had one run, stated that Coronado "…started off rough but battled back throughout the game and didn't give up."  Many of the Cougars agree that although the weather was not ideal, it was not an issue and they did not use it as an excuse to back down.
Overall this 2017 season, the Cougars have had many strong showings. Leading the batting average for Coronado is Santisteven with a .462 average, and Julie Callan and Anika Hagen, both juniors, batting .435 and .429, respectively, for the season.  Santisteven also leads the Cougars in runs for the season scoring 16 times and Callan is not far behind with 14 runs in 14 games.
Our Lady Cougars will be taking on league rivals Palmer High School on October 3rd at 6 P.M. at the UCCS Softball Stadium. Be sure to go out and show some support to these hard-working girls!