Coronado's New President Trump-et!
Chloe wins band election giving her the role as band president and new responsibilities.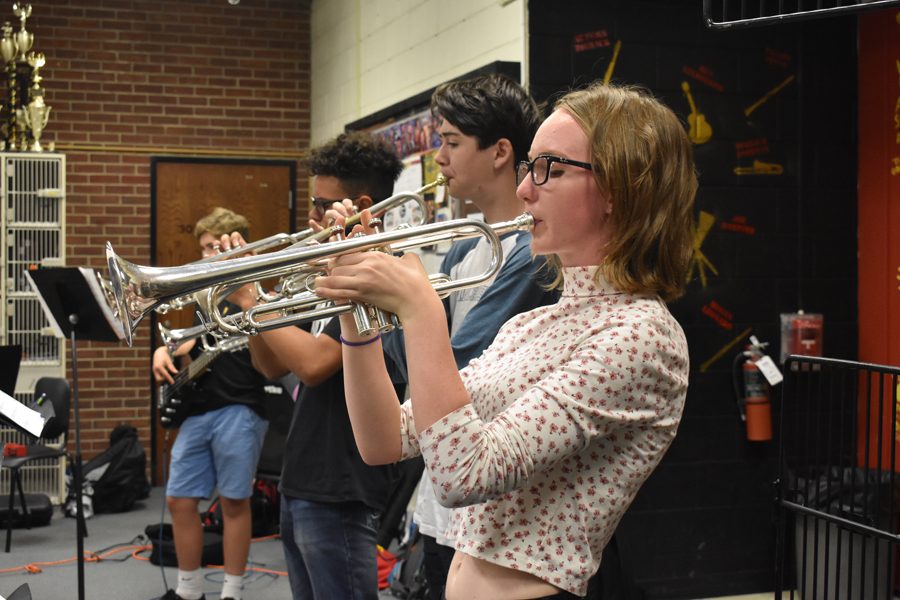 Hannah Besse, Staff Writer
October 6, 2017
The 2017-2018 Band President has been named! Drum roll please… senior Chloe Cassens has won the hearts of the voters this year and she has big plans in mind. While Cassens got first in the polls, vice president, which is decided by the second most votes, was an unlikely three way tie between seniors Luke Safayan, Kylie Rios, and Madison Rutherford. With four seniors in charge instead of the usual two members, the Coronado band program plans on being better than ever!
As president, Cassen's role in this year's band program will be putting together activities to unite the members such as breakfast days in class or out of school activities such as organizing laser tag, movies nights, and other fun activities. Additionally, she must offer support to Mr. Combs, the band teacher, manifesting itself as designing this year's band shirts and assisting in choosing where money should go within the band. Outside of coordinating band activities, Chloe's main goal is to get word out to the school and community about upcoming concerts because they "… put a lot of work into every one and it's nice to show that off, " says Cassens, "…We get excited to go out to the football games and the basketball games, and it would be nice to have some of that excitement shown towards our program."
Cassens added, "I'm really looking forward to being more interactive with the members, trying to get us together more outside of school, and to overall create a more cohesive group, especially with Symphonic band because we hardly ever see them!"
If you have never heard our extraordinary band play, come check out this talented group of people on 10/11 at 5:30 P.M. in the auditorium.
"I look forward to what this year holds and am ecstatic that my peers chose me for this position," stated Chloe, "I have three other lovely leaders at my side and I feel we will bring an impact, even if it's small, to the program."