Family of the Fortnight
Abernethy sisters chose different sports, but both find ways to dominate.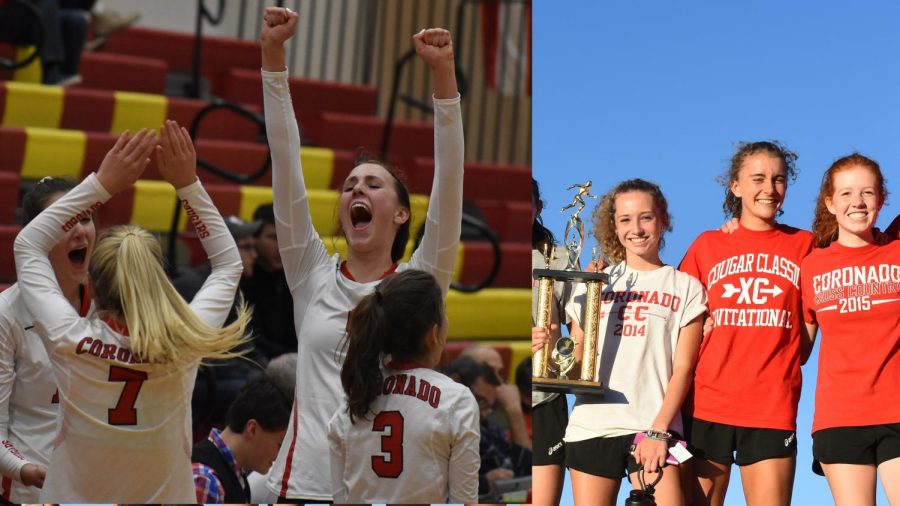 Cougar Daily Staff
October 27, 2017
Just five days after Grace Abernethy, 10, paced the Cougar cross country team to a state berth with a blistering PR of 19:27 at the 5A Region 5 meet, her older sister Mara, 12, delivered blow after crushing blow against Rampart, her 18 kills surging her team forward for the CSML volleyball crown.
Now both sisters are league champs with their eyes on State competition and the family has a lot to be proud of.  
Reflecting on the season so far, Grace says that it "has gone really well, and I am so happy with how we have been able to work together. Even though a knee injury at the beginning of the season kept me from running for a couple weeks, I am really happy that I have been able to contribute on such an amazing team."
Mara expresses many of the same sentiments, "We're having a really good season as a team so far, it's been a balance for me personally because I sprained my ankle landing on someone and I've been balancing playing with rest and recuperation. It's so rewarding to be finishing my high school career with the people I started it with, especially people I love and care about so much."
Younger siblings who choose a different sport than their all-star kin are always asked if they are going to follow in the footsteps and Grace was no different. "Going into high school, I was contemplating whether or not to play volleyball, and even though it was tough decision, I am glad I decided to focus on running. I love watching Mara play and it has been amazing to see her improve so much."
Maybe Mara could have chosen a different path, as well. The volleyball team got lucky; Mara says that she  "always ran short races as a family when I was little and didn't like it a bit. I enjoy running now and it's really fun having run some when I was little because I can better cheer for Grace and engage with her and her sport. I'm so thankful that I have the opportunity to support her while we are both in high school!"  
Besides having to go back and forth to watch their daughters play, often on the same night in very different locations, the Abernethy family is always behind them. Their mother says that "fall sports season is intense and fun!  Mara and Grace are very supportive of each other, even if they can't be at each other's events.  Once they get home, the girls hydrate, refuel, and dig into homework."  
Coach Wells of the volleyball team says of Mara that she "will miss her dearly." She continues, "watching her grow in both volleyball skills and leadership has been incredible.  Everyone in the stands notices her power, and her blocking ability is incredible. Many kids who experience the kind of success and get the awards that Mara gets turn into cocky, entitled kids who are not exactly nice to their teammates.  Mara is the quintessential servant – shagging the furthest ball in the gym, carrying water bottles, asking how she can help. Even when she is injured, she is right there for her teammates.  She celebrates the success of others more than her own."
Cross country coach Grant Stoughton says similar things about Grace.  "She is about the most supportive person I have seen; she is always there to congratulate a teammate, regardless of how she feels about her own performance, which is often with a critical eye toward improvement.  She is an amazingly talented runner and would probably never stop running if she didn't have to; she just loves the sport. She had struggled to break the 20 minute mark, once even missing it by less than a second, but at Regionals, when she lead our team with a 19:27, the smile on her face was priceless, even as other runners were collapsing around her.  Still, though, she was more excited for how well the team ran and for the chance for them all to run at State."
Congratulations to both sisters and good luck to both teams.