Cruising the Crowd: Jasmin Kuykendall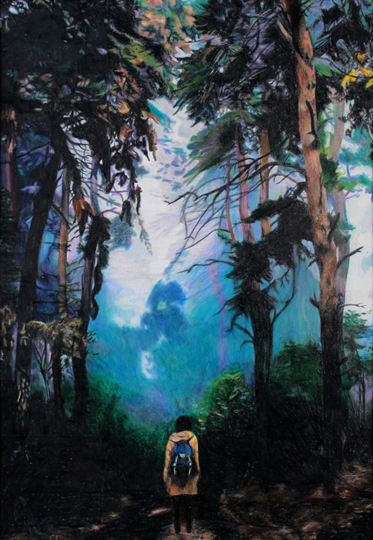 As always, Coronado continues to stun the rest of the district and state in much of what they do. We're known for excelling in many of our sports, test scores, and art! Jasmin Kuykendall, 12, is one outstanding artist of many at our school, and her art was recently selected to represent District 11 at the Colorado Association of School Boards Conference. Only three pieces of artwork were selected from each district (one each from elementary, middle, and high school), so having a Coronado student selected is quite the achievement!
Jasmin has been working meticulously on this piece since the end of last year, and it certainly shows in her piece, saying "I started it in November and finished it in may. It took so long because it's colored pencil, but a lot of people think it's a painting, the way I layered the colored pencil over and over again that makes it look like a painting. Normally I work with charcoal, so using color was new for me. I wanted to make this mystical forest that's different than anything I've ever seen. It was just a surrealism project for my art class, and I wanted to do something a little more spooky, I really like the idea of a forest and the things you can't see, so that's why I did the piece about trees, a forest, fog, all of those things. "
Jasmin Kuykendall spoke a little bit about her piece and how it felt to be selected.
" I'm so happy to hear it's getting recognition. I want to become an art teacher at the highschool level so this is going into my college portfolio. It was very tiring, I had to keep motivating myself a lot, there was a period where I got so frustrated I just left it alone.  So I'm just really happy that it's getting a lot of praise right now because I spent so long on it. "
With this piece, she hopes to further her path into the world of art and creation. Be sure to congratulate Jasmin the next time you see her, Cougars! And, if you're one of Coronado's many artists, keep pursuing your passions! You may end up having similar opportunities.