Cougars Flutter Kick to First
The Cougars have a successful home meet after beating Palmer 119-61 in last week's swim meet.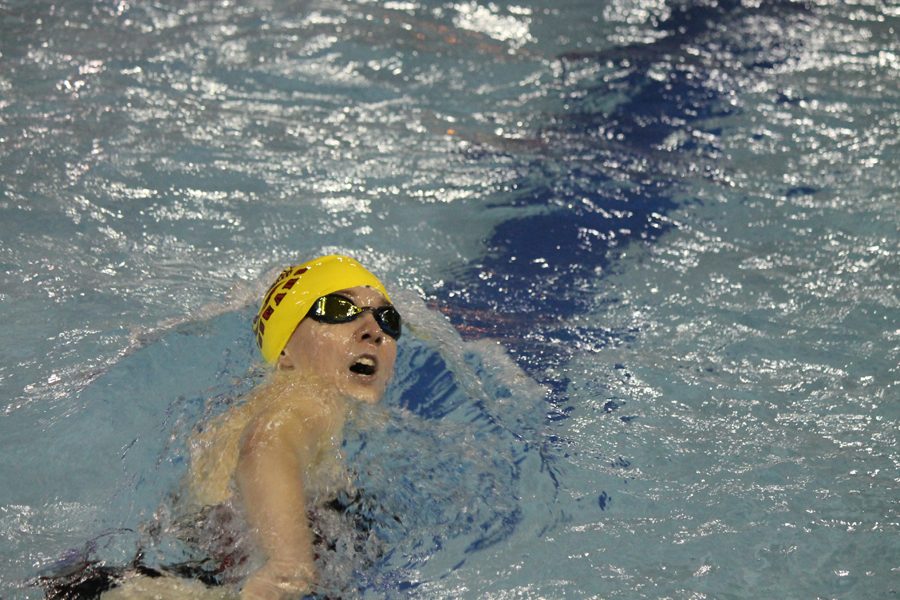 Hannah Besse, Staff Writer
December 12, 2017
Last Tuesday, 12/5, women's swim and dive took on cross-town rival Palmer High School and took a splashing win, 119-61. Swim meets consist of 12 events: diving, three relays, and eight individual events. Dive took the pool first, lead by Hailey Sedatole, 12, and Ariana Bower, 10. Sedatole won the meet, scoring 130.5 points, while Arianna scored 128 points.
As the only returning diver and the only senior on the team, Sedatole acts as a mentor to the new divers adding that she has "improved a lot since last year". At dual meets, such as Tuesday's meet against Palmer, they only dive six times while at invitations, they complete eleven dives.
Sedatole said of Bower, "She did great as a new diver and as a freshman. She'll improve a lot over her years."
"My goal for the season is to score enough points in a meet to qualify for state! Our first eleven dive competition is this Saturday and I cannot wait to see how we do!" said Sedatole.
Next, the swim team took the stage with an exceptional performance winning the 200M Freestyle and 100M backstroke, among other events. The Cougars' performance at the event continues their early success this season, the 200 Free Relay qualifying for state at only their first meet, swimming 149.63 seconds with the state qualifying time being 1:51.
Captain Lindsey Murray, senior, commented that there was some trouble with exchanging in relays that resulted in the disqualification of a few at the meet against Palmer, but overall there was a lot of team spirit. Murray pointed out that even with the few areas that need improvement, there are also things that the newcomers are working on and bettering such as learning the pace of the meet which helps to ensure they are not late to their events or miss them completely.
"I am personally looking forward to qualifying for state in a few relays and hopefully individually," said Murray.
Come support Coronado women's swim and dive team this Saturday, 12/16,  at Cheyenne Mountain High School!