Cougars Move to 3-7 in First Games After Winter Break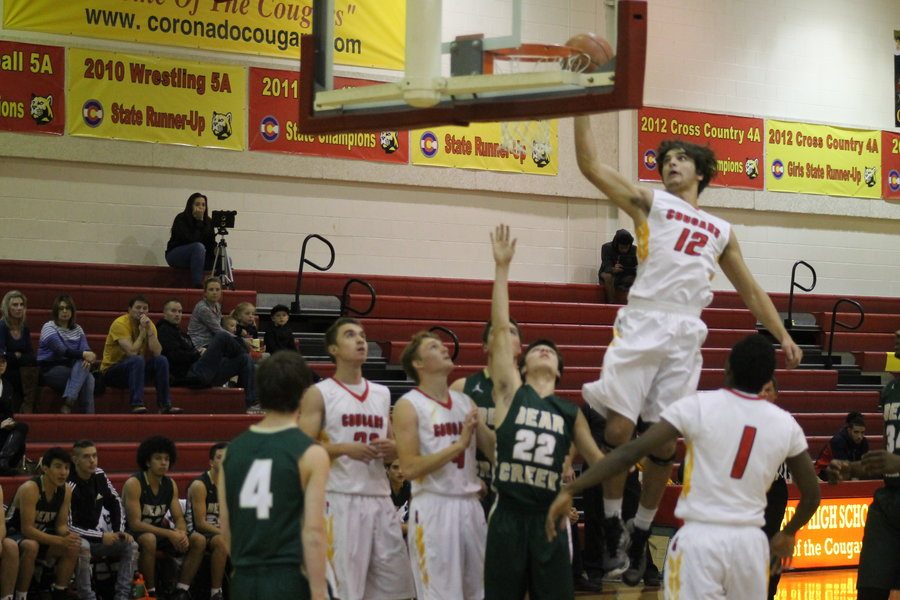 Coronado men's basketball recorded two losses in their first matches following a brief hiatus over Coronado's winter break. The Cougars fell to Pine Creek,  58-53, and Doherty, 53-75.
It was close loss, but not an expected one. In the Cougars' defeat against Pine Creek, the team began the game with a vengeance, outscoring the Eagles by 11 points in the first quarter. Though the following three quarters did not follow suit, the Cougars' loss to to their Colorado Springs Metro League (CSML) foes, 58-53, was a close one. Head coach and Coronado social studies teacher Dave Thomas said, "Pine Creek shot the ball extremely well. They are a streaky team but, when they are hot it is hard to slow them down…Basketball is like a boxing match. Both teams are going to trade punches but, you have to withstand their haymakers."
Three Cougars recorded double digit shooting nights in the effort, senior Jareth Morey totalling 17 points with 100% field goal shooting, a performance Thomas credited to Pine Creek's small size and Coronado's guards' efficiency in getting the ball to the senior captain. Both Ashton Rogers, 12, and Kaddin Stanley, 12, contributed 10 points; Rogers also notched 8 rebounds.
Notable in the game was the sheer amount of fouls, 41 total on the game, nearly evenly divided 21-20 between the two teams. Thomas said, "Playing a team like Pine Creek is difficult because they can hit you from so many ways. League games are extra intense for this reason and others. The basketball community is very small in Colorado Springs. These guys have played each other yearly their whole lives."  
In a second league matchup, the Cougars and the Doherty Spartans' faceoff several days later proved a challenge in defending and slowing down highly physical teams. Thomas said, "Doherty is a tough team to play because they have so much depth and height. Our strategy was to switch up defenses so they could not get in a rhythm."
In the end, the Spartans held the Cougars to just 53 points on the game, and outscored them in every quarter, but not without lessons learned by Coronado's team."Last week's games taught us a lot about the team and some steps moving forward. I feel good about some progress that we made to ensure that this team has the ability to compete each game," remarked Thomas.
The Spartans, ranked 7th in 5A men's basketball, were led by the upperclassmen trio of DeMarious Carey , 12, Alijah Bates,, 11, and Joshua Walker, 12, each of whom scored 15 points in the game. Bryce McKee, 11, led the Cougars in scoring with 12 points, followed by Morey, Ladarius Mays, 10, and Rogers with 9 points apiece. McKee and Rogers combined for 10 rebounds.
Best of luck to the Cougars away against Castle View on 1/10.