Drama Onscreen and Off at the Golden Globes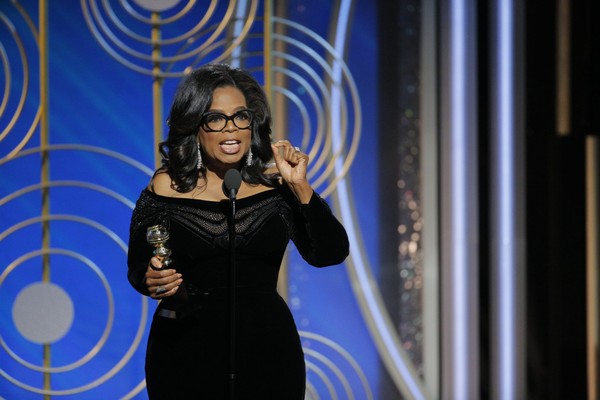 Hang on for a minute...we're trying to find some more stories you might like.
The Golden Globes annually tell media consumers about which movie is worth watching, which celebrities to keep an eye on for the duration of their career, and what social, fashion, and political themes to track. This year, the focus was not on the movies that won, but rather on the drama that unfolded and the hearts that were touched.
With the revolution of the #MeToo movement, the Golden Globes turned black, as many people wore black to support the cause. The #MeToo movement was started in the early 2000s by Tarana Burke, who was faced with sexual harassment and abuse in her life. In the past few months, women have begun to speak up about the sexual harassment in the workplace and in Hollywood, which has begun a worldwide movement of speaking up. In solidarity, both men and women attending the awards wore black. For many, it was a brave statement about the state of gender equality and treatment in both the media and the workplace. Over the course of the night, many people spoke about the topic. Natalie Portman commented on it as she and Ron Howard announced the nominees for best director, she delivered a one-liner that was an instant hit with the crowd: "Here are the all-male nominees." Although many people praised her audacity and bluntness, others have critiqued her for not doing enough for the women's movement, since she has been in multiple movies with known sexual harassers and has upcoming works with people who have been accused of similar crimes.
Though it came up multiple times through the evening, the most notable reference was Oprah's speech, which had people speculating she may be considering a 2020 run for president. She detailed how she watched Sidney Poitier win a Golden Globe in 1964, and how she felt knowing that he was the first black person to do so. Following the theme of the night, she then commented on Hollywood's theme of sexual misconduct. "Each of us in this room is celebrated because of the stories that we tell, and this year we became the story," she said, before launching into the story of Recy Taylor, a young black woman who was brutally raped and never given the justice she deserved. To conclude her speech, she said that she was looking forward hopefully to a day when "nobody ever has to say 'Me too' again."
Sterling K. Brown was the winner of the 2017 Golden Globes. As he stood in front of hundreds of America's most famous and important people he gave a powerful and heartfelt speech about how grateful he felt that he was the first black person in 19 years to win the Golden Globe Awards. There's been some controversy over whether producers were disturbed by these comments or if he truly had used too much time, but either way, they cut him off in the middle of his speech while dimming the lights. Many were disgusted by how the producers cut him off in the middle of his speech, and they spoke out. Sterling was so determined to finish his speech and get his point across that he finished the rest backstage to try to clear the air. What was supposed to be a great night full of honoring people for their hard work, ownership, and perseverance turned into a dark night full of anger and accusations of racism leaving a dark stain in many people's minds of the 2017 Golden Globes as a failed success.
Because the Golden Globes reward people for their hard work, perseverance, ownership, and leadership, it brings people together in many different ways, but it can be hard to look past the negative moments. No matter where you fall on political issues, it's always fun to celebrate talent with an extravagant night of awards.