Cougars Battle Their Way to 8th Despite Missing Three Starters
The Cougars have a top ten performance at the Metro League Championships with two wrestlers taking first place.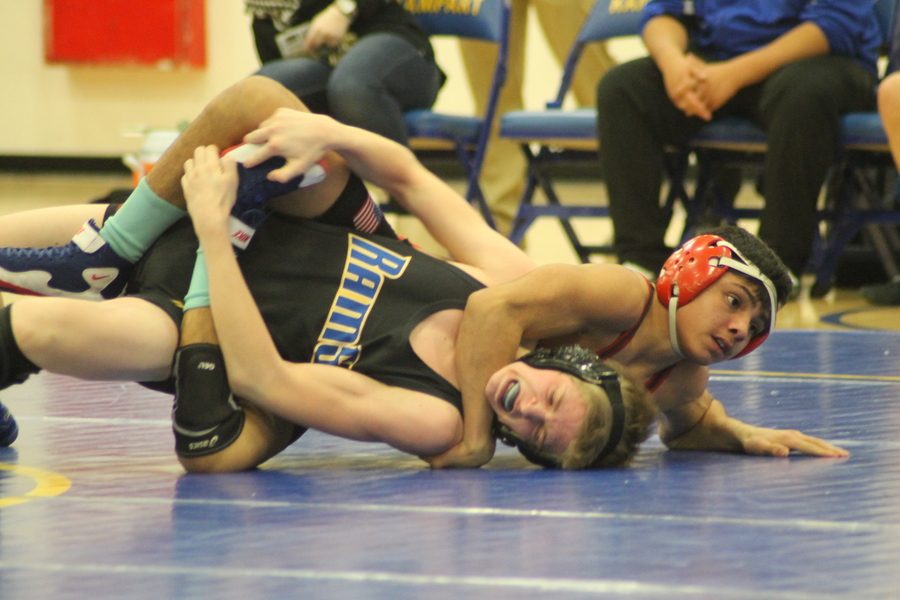 Hannah Besse, Staff Writer
January 25, 2018
On Friday and Saturday, 1/19 and 1/20, Coronado Wrestling competed in the Colorado Springs Metro League Championships at Doherty High School, and showed their strength as a team and as individuals. Despite missing three of their varsity starters, the Cougars battled their way into the top 10 with Angel Flores, 10, and K.J Kearns, 12, leading the pack, both taking first place.
On the way to the finals Angel Flores overcame some of the top wrestlers in the state, winning a close semifinals match 8-6 over Discovery Canon's Jaden Porreco and getting the pin in the finals over Lewis Palmer's Sam Blackmon. After an amazing performance, Angel was chosen by the officials and members of USA Wrestling for the Outstanding Underclassman Wrestler award which was given to only one wrestler in the tournament.
"I would say that getting Outstanding Wrestler was better than winning because not many people get Outstanding Wrestler,  but a lot of people win." said Flores, proud of his performance.
K.J. Kearns dominated the field in the 145 pound weight class pinning his way to the finals and winning in a 7-1 decision in the finals over Kevin Johnson from Mitchell. Coronado also placed Daven Ollier (5th), 10, Ben Nagel (5th), 9, Beau Chauvin (8th), 11, Ben Tonnessen (7th), 10, Andrew Gordon (8th), 10, with all wrestlers battling tough.
Mesa Ridge High School was the 2018 CSML Champions with 193 points beating host team Doherty High School by 12 points. Cheyenne Mountain High School came in third with 157 points and Discovery Canyon coming in fourth with 148 points. Coronado came in 8th of 26 teams, with 128 points (even with three starters unable to compete).
The Cougars will be traveling up to Brighton High School this weekend, 1/27, so be sure to wish them luck!