Big Reputation
A review of T- Swift's newest album.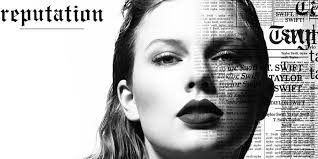 Hate her or like her; there is no denying that Taylor Swift is a big star. Taylor Swift recently released her new album, "reputation"  revolutionizing her sound compared to previous music. Even when compared to her shockingly new "1989," "Reputation" sounds different.  It primarily draws from Swift's pop history but has many other genres influencing and pouring into it. 
Even though I personally like her older songs a little more; the new album is refreshing. After being given a hard copy as a gift, I discovered I liked "Reputation" enough to justify buying a digital copy as well.
The opening track of the album is  "…Ready For It?" Besides the three dots at the beginning, the song is fun to listen to. With a fun beat and pseudo-rapping by Taylor Swift, "…Ready For It?" is an imaginative step away from Swift's traditional sound. As one out of many love songs she has on Reputation, and one of many she has written in general, it is fun to listen to and is one of the three most prominent tracks on the album.
The second track is another of the stronger ones on the album. "End Game" ft. Future and Ed Sheeran is about the desire to be someone's "endgame" and balancing two big reputations within a relationship.  Though "End Game" is a love song, I can't keep complaining Swift's tendency to write love songs. I think Ed Sheeran and Future transform the track into a fun dance song. The song also passes the four-minute mark, giving the listener more music to enjoy! Taylor acknowledges her reputation drama queen in this song but also makes the point that she doesn't love the drama it loves her.
Third, comes "I Did Something Bad," a track about Swift "playing the players." In this song, Swift breaks outside of her typical dialect by saying  "sh*t," shocking given she has never cursed before to that level in a song, I just have no idea how to feel about it. My favorite part is where it talks about burning all the witches. She repeatedly  says to light her up. This gets me hyped every time.
"Don't Blame Me" is her fourth track. This one is about "her lover being her drug." I don't have much to say apart from it's a general fun song to listen to, but definitely not much of a standout.
"Delicate" is her fifth song, and might be my second least favorite on the album. Luckily for Swift, I still like the song. There are a few lines of the song which are catchy and get stuck in my head after listening to it, as well as a strong beat to it that I love.
The sixth song, "Look What You Made Me Do" is one of my favorites on the album. This is the strongest of the album's three hits and the break from Taylor Swift's hiatus from releasing music after her last album. This is a fun song to listen to, and even though some people didn't like the new, "darker" sound she has incorporated into it, I definitely did.  In truth, I have zero idea what this song is about, though my guess is it about her arch nemesis, Kanye West, who has an ongoing conflict with Swift. Regardless of the gossip, I don't care for the drama with any of the celebrities even my favorite ones, I care much more about their content, and that shines through in this song, especially since it has an incredible music video accompanying it.
"So It Goes…" is the 7th track on the album and one I do not care for all that much, though I do still like it.
The 8th track is "Gorgeous." When it was first released I didn't like the song at all, but over time it has grown on me. I like it for the frequent comedic lines throughout the song. I found the lines particularly humorous because of the contrast throughout the song from talking about the beauty of one person; then to death or happy to sad.
One of my other favorite songs on the album is "Getaway Car," uniquely matched with both a  great song and a cool title. The 9th track tells a story of what nearly becomes a Bonnie and Clyde relationship. I love the story it tells and is one of those Taylor Swift love songs that I genuinely really like. I like it so much that I put it on repeat for at least 20 minutes.
"King of My Heart," the album's tenth track, is another one I don't care for as much. I like the start of the song but the chorus leaves a lot to be desired, though the song does redeem itself slightly in the bridge right before the end of the song.
"Dancing With Our Hands Tied" definitely gives me mixed feelings. I somehow simultaneously like and hate it. I guess your feelings on the song probably depend on how you are feeling at the time. It makes for a perfect jamming song to listen to, a definite plus, but there is still a large part of me that just can't groove with this song.
"Dress" is definitely, by far, my least favorite song on the album. I know I sound like an old person, but any song that has to do with anything sexual automatically gets a nope for me. There are very few sexual songs that I can even stand, but "Dress" is one of those songs, since sex isn't all it talks about. It's also from Taylor Swift; so that saves the song for me. I feel it really doesn't fit her that much; writing those kind of songs.
"This Is Why We Can't Have Nice Things" has to be one of my favorites on this the album. Reputation's 13th track is something different compared to most of the other songs but is somewhat similar to "Look What You Made Me Do;" while the song isn't about revenge it is about being stabbed in the back. Despite this, it has a lighter tone to it compared to "Look What You Made Me Do." The song "This Is Why We Can't Have Nice Things" is a fun track to listen to particularly because the line "This Is Why We Can't Have Nice Things" is so fun to blurt out as you sing along.
Now for "Call It What You Want" her 14th track on here. While I like all Taylor Swift songs I did say that love songs don't always make it into my top picks for Taylor Swift's songs but this one like Getaway car and some other of her songs deify that rule for her love songs. This is a sweet love song about her being in love with someone and her getting caught up in the moment with him. At least I think that's what it's about or I could look it up, but I am too lazy. My point being about this song is it's almost like "Begin Again". It's a sweet love song and about nothing else. It has no fast jam to it and feels a little slow.
"New Years Day" is the end of the album and really makes the whole thing. It's a slow perfect close to what is her 2017 reputation. Even though I am not too sure what this song is really about, listening to the lyrics thought gives me a nostalgic feeling, but they also are very sad when you listen to them. I love this song.
Overall, "Reputation" is probably my least favorite album by Taylor Swift so far; this album nonetheless is fun to listen to and has some of my favorite Swift songs on it. I would give it 4 out of five stars because she deserves extra credit for bravely switching to full pop from her country roots. I would recommend "Reputation" to those who like her "1989" album and to those who have never listened much Taylor Swift but like Pop as a genre.