Cougars Claim Two Coaches of the Year!
Grant Stoughton and Stormie Wells both won CSML "Coach of the Year" awards!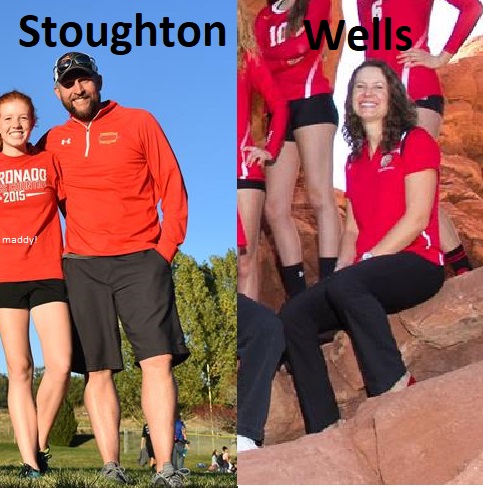 Two beloved coaches here at Coronado, Grant Stoughton and Stormie Wells, who coach cross country and volleyball, respectively, have both won the esteemed CSML "Coach of the Year" award!
Grant Stoughton, in his first year as head cross country coach, led the girls' team to a successful season; they placed 1st at the Cougar Classic Invitational and were the 5A Colorado Springs Metro League Champions. Coach Stoughton is respected by his team; his passion for the sport is palpable and his relentless humor makes practice entertaining. Senior Chloe Cassens says "Coach Stoughton brought forth a complete training program that allowed every member of the team to succeed. Besides building a strong team athletically, [he] produced a stable and unified team… I sincerely felt the oneness of team. One that every athlete should be a part of. One that could only have been brought on by Coach Stoughton." Cassens has been running for the cross country team since her freshman year when Stoughton was an assistant coach. Junior Ben Swanson agrees, "He's encouraging; he makes me feel like I'm an important part of the team. He's a good leader and he's also good at making other people leaders. I feel like I've become a good leader through his training and I've also become better as a runner." Stoughton was excited about his recognition by the CSML, "It is really a huge honor for me because it is voted on by the other coaches. These are people who really know the sport and there are some very respected experts in the CSML." Stoughton was only serving as interim coach this year after Coach Hugill's retirement; he has applied for the permanent coaching position for the coming years. All his runners look forward to Stoughton's reinstatement; the cross country team wouldn't be the same without him.
Stormie Wells, a veteran volleyball coach at Coronado for over 7 years, has a long and proud history of bringing her team to victory year after year. Her contagious energy and spirit drive all her players to play hard and win harder. This year, our girls' volleyball team finished first in metros and ninth in the state. Says Senior Delaney St. Pierre, "I've had the privilege of being coached by Stormie for the past four years. I think that I can speak for all of my teammates when I say [she] has made the Coronado volleyball program what it is today; we were so successful this past couple of years because of her knowledge of the game. Stormie deserves 'Coach of the Year' not just because of her amazing experience on the court but also because of how she influences us off the court and the life skills that she's taught us. I'll never be able to thank Stormie enough for all that she's done for me." Wells made the decision to retire after this year; well deserved after coaching for so long. She will be missed by all of her players, but her influence and impact on the Coronado volleyball team will never be forgotten.
Coronado is lucky to have so many coaches who have a passion for their sport and their players. Congratulations to Coach Stoughton and Coach Wells!