Gerrymandering: How Our Government is Cheating Elections
How congressional districts are being drawn unfairly.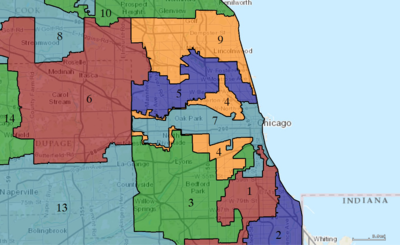 Hang on for a minute...we're trying to find some more stories you might like.
It's quite an accusation to allege that the United States Government is cheating elections. Or isn't it anymore? Gerrymandering has been going on for decades, virtually unpunished; it's time to hold our government accountable.
Every 10 years, congressional district boundaries are redrawn after the national census to better represent the districts' and nation's growing and shifting population. But are these lines being drawn equitably?
Gerrymandering is a process in which election boundaries are drawn unfairly in order to give one party an advantage over the other, even if the other party clearly has more supporters in that area. This unfair strategy is practiced by politicians to both ensure the success of their party and to prevent the success of other parties. This is a difficult concept to understand, however, the below illustration from the  Washington Post  clearly displays three ways in which a voting district of fifty people could be divided, only one of which is fair and representative.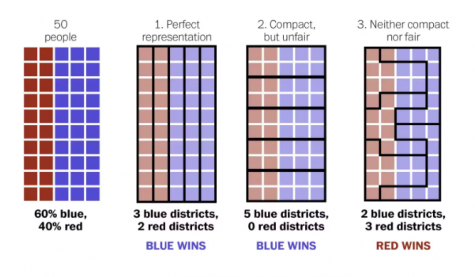 According to FairVote, "Those engaged in gerrymandering rely heavily on winner-take-all voting rules. That is, when 51% of voters earn 100% of representation, those drawing districts can pack, stack and crack the population in order to make some votes count to their full potential and waste other votes."
Because it is relatively unheard of, it is easy for politicians to keep getting away gerrymandering. This needs to stop. Allowing gerrymandering to happen is allowing US citizens to be misrepresented. For example, Pennsylvania has been called one of the worst gerrymandered states in the US. Its unfairly drawn congressional districts are "responsible for at least three additional GOP seats in Congress. Republicans controlled the redistricting process in 2010 and drew the map to give them a considerable advantage. In the 2012, 2014 and 2016 elections they won 13 of the state's 18 congressional seats, despite just winning about 50 percent of the vote," wrote Sam Levine of the Huffington Post.
There is no law against gerrymandering. A recent decision by the Supreme Court refusing to put a stop to Pennsylvania's obvious gerrymandering problems has made the federal government's view apparent on this issue: they don't care.
But, I do. And you should. This is our government, our country, our problem. We can't allow people with power to cheat the system and misrepresent us.
I know you're thinking, what can I do? You might not be able to vote yet, but you can still influence our government. Call our senator – (719) 328-1100 is Colorado's senator Michael Bennet's number! Call our representative –(202) 225-4676 will let you reach Ken Buck, one of Colorado's representatives in the judiciary and rules committee. And, above all, be educated on the issues.
Only when we come together as a country can we inspire a change and make our government TRULY democratic.
picture credit: https://en.wikipedia.org/wiki/Illinois%27_congressional_districts