Coronado High School now a part of the MCU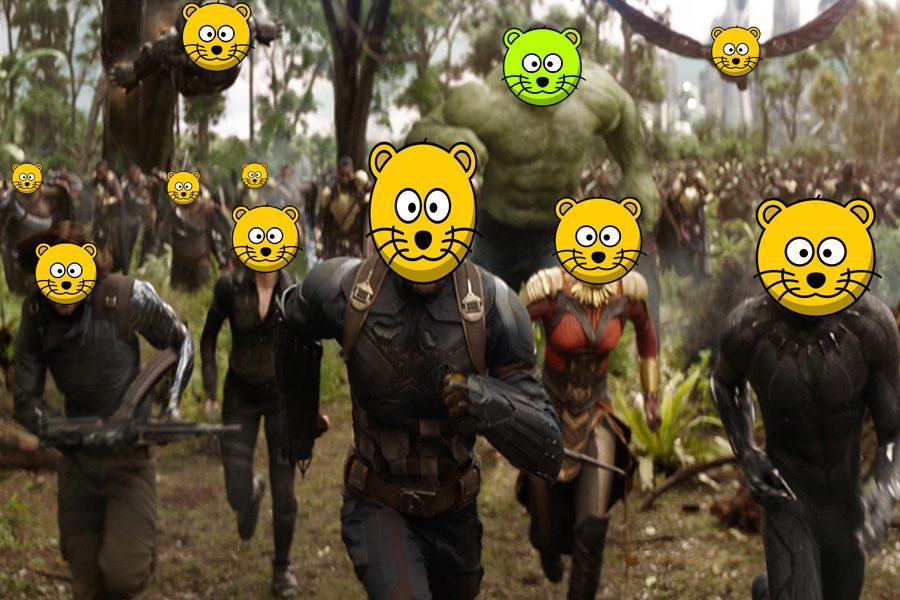 Avery Young, Staff Writer
February 27, 2018
Exciting news for clubs and classes alike – Coronado High School has purchased a year-long movie license from Movie Licensing USA! This means that movies from any blow studio are free game to show in the classroom and for fundraiser/event purposes. While it is clear that class time movie screenings must retain an amount of educational value, after school events are under less strict of regulations. Legally, fundraising movie nights are an option to Coronado's clubs and organizations.
It should be noted that advertising the title and studio of a movie used in events is allowed in-school but prohibited on public platforms.
Below are the studios involved in the licensing agreement:
Walt Disney Pictures This corporate conglomerate is sure to bring the joy of disney straight from the magic kingdom into your classroom!
Disney PIXAR See above.
Warner Bros. Pictures Solve the mystery of successful movie night fundraisers with the likes of Scooby-Doo and the rest of the mystery gang with these rights to Warner Bros. Pictures!
Paramount A Vista Company We don't know anything else about this studio, just watch that dvd behind the mountain logo satisfy your needs to see the stars – the movie stars, that is.
Sony Pictures Who you gonna call (to set up a license to watch)? GHOSTBUSTERS!! (Mr. Smith)
NBCUniversal Hey now, you're an all star. The worlds of all-star old cgi, new cgi, television shows like The Office and Parks and Recreation, and many more are at the doorstep of Coronado High School.
LIONSGATE In the mood for teen angst sprinkled with romance and the threat of death? No, not The Fault in Our Stars, but the likes of Twilight and The Hunger Games.  
Metro-Goldwyn-Mayer (MGM) If you want to hear the sound of a tiger pretending to be a lion before every movie, this is the studio for you.
New Line Cinema A Timewarner Company From Middle Earth to modern horror, find yourself rushing straight outta coronado and into the auditorium to mask a lack of club activities in movie nights. It'll be a great way to conjure up some fun.
Touchstone Pictures Now we can all spend some time with the Dead Poet's Society or find out Who Framed Roger Rabbit – maybe even feel the Need for Speed – legally!
Summit Entertainment Come to know The Perks of Being a Wallflower, fall in love with a zombie, or even feel the Fear and Loathing in Las Vegas with these movie rights.
Hollywood Pictures Take Care of Business with the Dead Presidents – may even Spy Hard under the Hollywood Pictures name.
Columbia Pictures Take on the Cobra Kai with some Boyz n the Hood or steal from the rich with the merry men (in tights!).
Tristar Pictures Puppeteer your way through Manhattan or into Pan's Labyrinth, or find yourself on a high stakes crime chase with Baby.
MIRAMAX Sip up some sweet orange-juice flavored fiction or hear those infamous Kill Bill Sirens – maybe evening use some Good Will on your next Hunting trip – there has to be room in the classroom for these classics.
FOCUS FEATURES For all the hipsters out there, now you can tell everyone how much you Laika those Wes Anderson films.
FINE LINE FEATURES Find yourself Saving Grace in the Invisible Circus with Two Girls in Love – even if what makes something educational is a fine line.
United Artists an MGM Company Be true to your school and watch West Side Story, or venture out to Hotel Rwanda with these oldies.
SCREEN GEMS If you want to be Quarantined, get Fired Up, or Think Like a Man, the plethora of horror movies Screen Gems provides will be right up your alley.
Hosting fundraisers is one of the few ways to make money for Coronado's clubs, aside from striking up a deal with Chipotle. Oftentimes they fall short, amounting to little due to the pitfalls of selling sugary foods and Orchestra's monopoly on honey sticks. Movie nights are a fun way to raise funds and awareness, but until now we have been unable to require anything short of a requested donation. According to the website through which the licensing rights were acquired, "this license does not permit movies to be used when an admission fee is charged, other than to cover costs. In lieu of charging an admission, you may suggest "donations" and/or provide concessions".
It really just comes down to the fact that the Black Panther could stop by the school at any time and it wouldn't be weird.