Women's Tennis Falls 3-4 to Kadets in Season Opener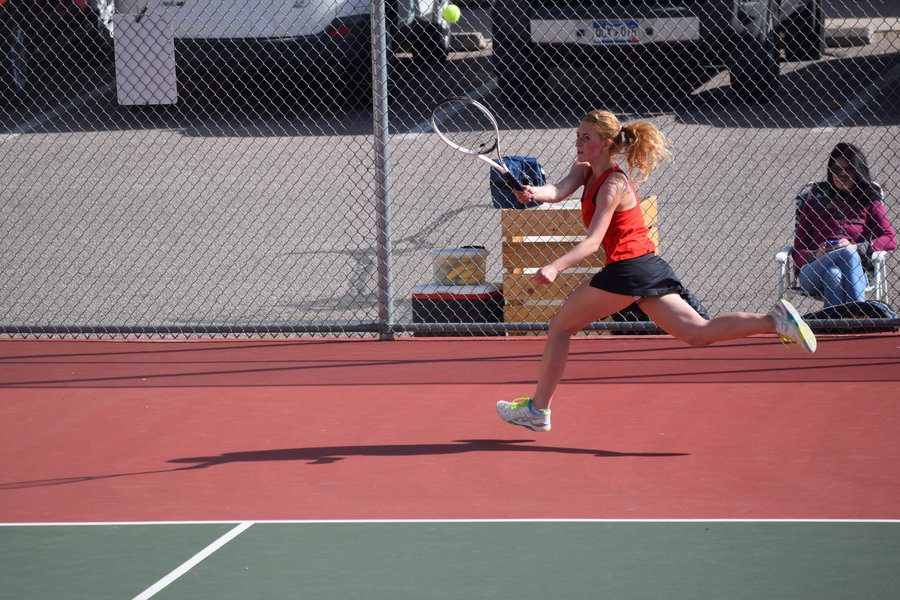 In a narrow defeat, Coronado women's tennis was bested by the Air Academy Kadets, 3-4,  in their first match of the 2017-2018 tennis season.
Senior and Occidental College volleyball commit Bethany Heitland accounted for the Cougars' highest-ranked win at #2 Singles, beating Air Academy's Mia Kardell 6-2, 6-3. Coronado's #1 singles, senior and Colorado Mesa University tennis commit Savannah Leifer, was defeated 6-4, 6-1 by the Kadets' Cori Campbell. #3 Singles Anna Griffin, 10, and #3 doubles players Jillian Meister, 11, and Maya Glaser, 12, also picked up victories for the Cougars with Meister and Glaser snagging their win in a back-and-forth three set match. #1 doubles duo Connie Sun, 11, and Madeline Davis, 10, lost in a three set match against Molly Matheson and Grace Ensor.
Though the Cougars fell short, Heitland, is not discouraged, saying, "Air Academy is always a strong team so it's great to play them at the beginning of the season to test our skills and see what areas we need to improve in. I'm very proud of how well we competed with them."

Second-year head coach and Coronado English teacher Tyler Philipsen added, "Being closely matched with the Cadets at the start of the season is a good sign because Air Academy regularly qualifies as a team for the 4A state tournament, so that lets us know that we are at that level on any given day." Philipsen continued, "The other thing that is promising is the idea that Air Academy almost always has more experience that we do overall, so we should only close the gap even more throughout the season as our younger girls gain experience."
As for the season, Philipsen said the team aims to send at least five of its seven playing spots to state, thus qualifying the Cougars for the 5A team competition. Philipsen also intends to focus the team on "getting better throughout the season instead of on winning because that is the only thing you are rewarded for at regionals – being good at that point in the season." Additionally, to force wins such as Glaser and Meister's in long three set matches, Philipsen plans to "cultivate mental toughness" in the team atmosphere by emphasizing "battling until the end" in every match.
Best of luck to the Cougars in their upcoming matches against the Mullen Mustangs on 3/13 and the Liberty Lancers on 4/14!