Tennis Tramples the Trojans
Tennis wins their match against Fountain Fort Carson with a 5-2 score.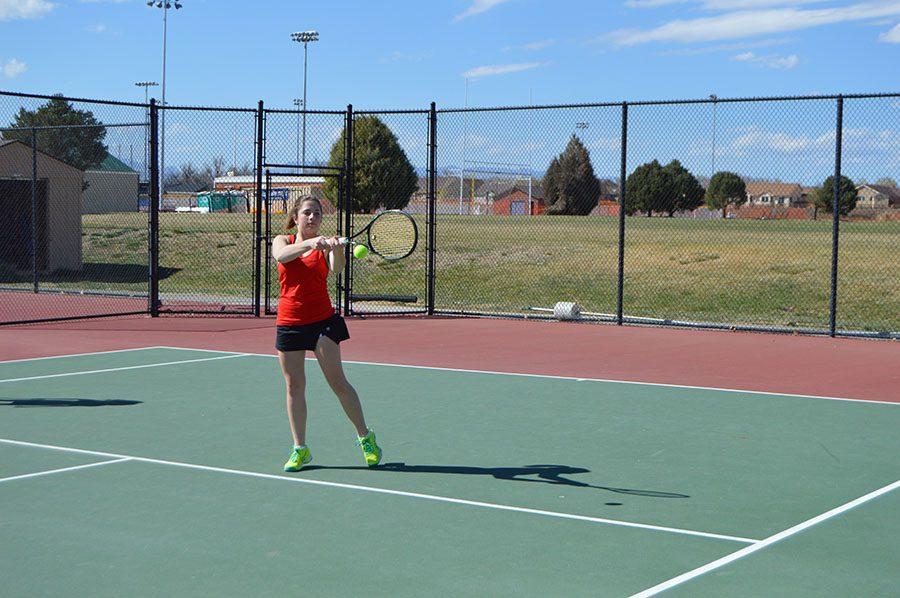 Hannah Besse, Staff Writer
March 25, 2018
Last Wednesday, 3/21, Coronado women's tennis played Fountain Fort Carson at home but came away with a victory! All four Coronado doubles positions beat the Trojans and the number two singles positions overcame Fountain Fort Carson. A team wins or loses their individual matches which accumulate into the overall score; a school wins if the majority of their seven positions get a victory. In this match, the Cougars were victorious 5-2 .
In tennis, there are seven total positions, three singles positions and four doubles positions. The hope for the season is to qualify for the state championships as many of those positions as possible if not all of them.
First and second singles, Savannah Leifer, 12, and Bethany Heitland, 12, took the court first in the competition; Heitland won her match with no trouble while Leifer fought hard for the win, but ultimately, was defeated. First and second doubles then took the court, and again, were both victorious. Seniors Clara Thompson and Emma Sartain, second doubles, snagged a hard fought win in the only match to go to three sets, winning the first, losing the second, and taking the third set for the win. Next up, Madeline Davis, third singles, took the court and battled hard for a victory, but ultimately came up short. You'll get them next time, Madeline! Third and fourth doubles took the court; Third doubles, Maya Glaser, 12, and Jillian Meister, 11, as well as fourth doubles, Rylea Baumberger, 11, and Leilani Betts, 10, secured a two-set victory.
Captain Clara Thompson commented on her match, "Emma and I won the first set 6-3, and at that point, we were really tired, so we became less aggressive with our shots in the second set and they [the other team] got more competitive. We then rebounded after talking to each other and our coach, and we were ready to win."
So far the Cougars have played Mullen High School, Air Academy, Lewis Palmer, as well as scrimmaging Cheyenne Mountain. The team played well despite having their toughest opponents at the beginning of the season which gives them hope for a strong showing at the Colorado State Tennis Championships in May.
Thompson added, "Our hope for this year is to get our entire team to state by stepping up and being confident in our abilities."