Boys Baseball With a Busy Week
The Cougars play four games in five days winning two and losing two.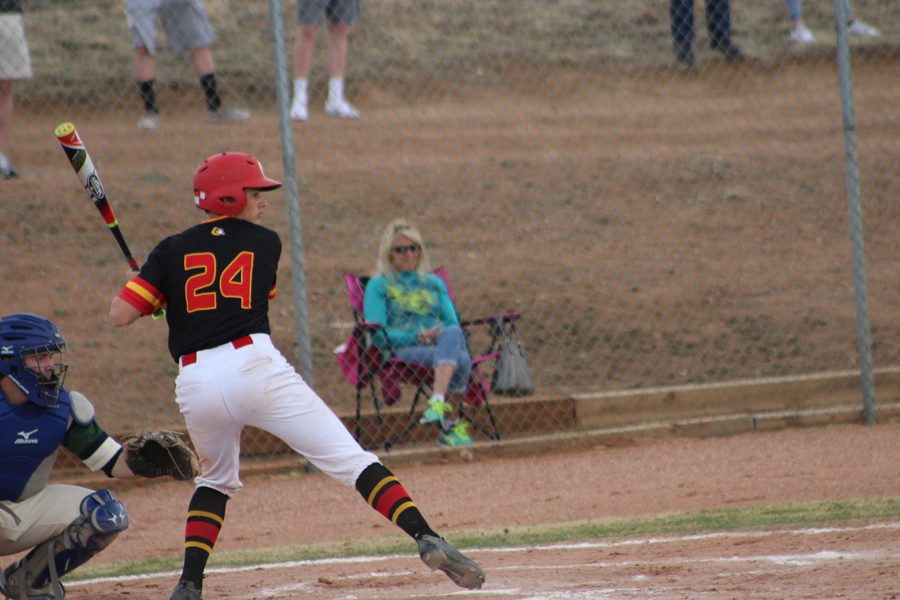 Hannah Besse, Staff Writer
April 21, 2018
Varsity baseball had a busy week with four games within five days. They played Liberty on Tuesday, Canon City on Wednesday, Liberty again on Thursday, and, finally, across-town rival Doherty High School on Saturday. After two losses and two wins on the week, the Cougars league record improved to 2-3 and their overall record improved to 5-6.
On Tuesday, 4/10, the Cougars put up a tough fight their first game against Liberty, but came up short with an ending score of 4 runs to 6 runs.The Cougars kept pace in the first inning of the game, both teams scoring two runs, but fell behind in the 6th and 7th innings when the Lancers managed to score three runs. Bryce McKee, 11, Issiah Sisneros, 12, Parker Martin, 11, and Ashton Rodgers, 12, all managed to make it home and score for the Cougars, junior Beau Chauvin bringing home not one but two runners. Martin lead the team in batting average, hitting .667 with two hits on his three plate appearances. McKee, Martin, and Corey Merritt, 11, all had a double apiece, propelling the Cougars towards their near win. Although Liberty's Bryce Eisenreich was the standout player of the game, scoring two runs, Coronado struck back later in the week and redeemed themselves with a victory.
The next day, Wednesday, 4/11, Coronado took a trip in the opposite direction down to Canon City High School and again battled hard for a victory, but came home with a loss. The final score was 8-4, Chauvin, Graehame Webb, 11, Tucker Travins, 11, and Sisneros each scoring a run for the Cougars. Parker Martin led the team in runs batted, bringing two of his fellow Cougars to home plate to score. Freshman Nolan Daniels, managed two doubles in the game although never making it home himself. Canon City's Shane Coffey had a great game for the Tigers, scoring two runs and securing the team's victory.
Finally on Thursday, the Cougars found their stride and pulled off a 14-3 win against Liberty, who had beaten the team only two days prior. Coronado came out with victory on their minds, ending the first inning up 6-0. The Cougars never gave up control, scoring twice in the second inning and adding another six runs in the sixth inning. Bryce McKee and Nolan Daniels both had an outstanding three runs, McKee also batting a .750 average for the game and hitting a homerun. Parker Martin and Nathan Papenfuse, 10, also had great games with two runs each; Martin managed both a double and a triple for the day.
McKee said of the game: "I think as a team we figured out that if we fall behind, we'll always find a way to fight back and hopefully win."
With just a day's rest under their belts, Coronado finished off their busy week with a victory against Doherty with a 13-9 score. Although the game started off slow, the Cougars behind 3-5 after the fourth inning, the team energized to score four points in the fifth inning and another five in the seventh to seal the deal and pick up a second victory on the week. Graehame Webb had a spectacular day, scoring three runs. Issiah Sisneros, Bryce McKee, and Corey Merritt all contributed two runs. Bryce McKee brought three people home during the game and hit the one of the two home runs of the game, Issiah Sisneros hitting the team's second home.
Looking ahead to the rest of the season, team captain, Issiah Sisneros, said, "We have hit a few bumps in the road along the way, but we know that if we play hard together we can do big things as we hope to make another playoff appearance."
The next varsity baseball game is this Saturday, 4/21, against Mesa Ridge at home at 10:00 A.M. Come out and support your fellow Cougars!