Tennis Takes the Triumph Against Rampart
The Cougars win against Rampart 5-2 and hope to carry that success with them to regionals and the state tournament.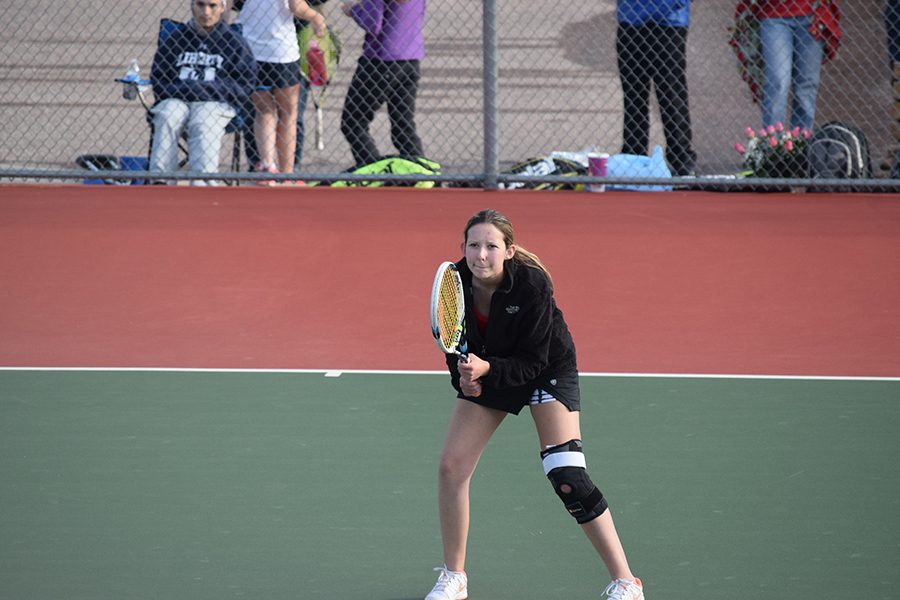 Hannah Besse, Staff Writer
May 2, 2018
On Wednesday, 4/25, Girl's Tennis took on the Rampart Rams and were victorious 5-2. The victory improves their record to 5-5 and their league record to 3-3. The Cougars played only five matches in the competition: the second singles, third singles, first doubles, third doubles, and fourth doubles. The first singles and the second doubles players did not play as a result of illnesses on Rampart's team.
Second singles, senior Bethany Heitland, defeated her opponent, Rampart's Grace Qui, in three sets, fighting hard for a win. Heitland lost the match's first set but won the next set 6-4. She went on to win the third set 1-0, securing a victory in her match as a whole. Next, third singles, Madeline Davis, 10,  took the court but fell short to Zoe Hayward of Rampart in two sets. The Cougars rebounded with Anna Griffin, 10, and Connie Sun, 11, winning their first doubles match in straight sets, both sets ending with a score of 6-4. Third doubles, Maya Glaser, 12, and Jillian Meister, 11, won their match in two with scores of 6-3 and 6-2. Sadly, fourth doubles did not claim victory but fought hard regardless of the score.
"It was a tough match mentally and physically. After losing the first set I was glad I was able to refocus and come back to win the second set and eventually the match. I think it was good preparation for regionals coming up this weekend where I and the rest of the team hope to qualify for state." said Bethany Heitland, 12.
Later, on Friday, 4/27, Coronado  traveled to the Cheyenne Mountain Indian Invitation, their last regular season tournament of the season. The Cougars placed 7th in a very tough field, playing teams such as Cheyenne Mountain, Fossil Ridge, and Cherry Creek. All teams the Cougars faced will likely be state qualifiers, allowing the team get a look into the level of competition they will be seeing at state.
Senior Clara Thompson, second doubles, remarked on the tournament: "It was a great experience to prepare us for regionals, and it helped us be prepared for what we will see at state."
Next week, the Cougars will head down to Cheyenne Mountain High School again for Regionals where they will hopefully qualify as many players as possible for the Colorado State Championship in Pueblo.