Climbing Octaves to the Top
Coronado's Show Choir Places First in the State Competition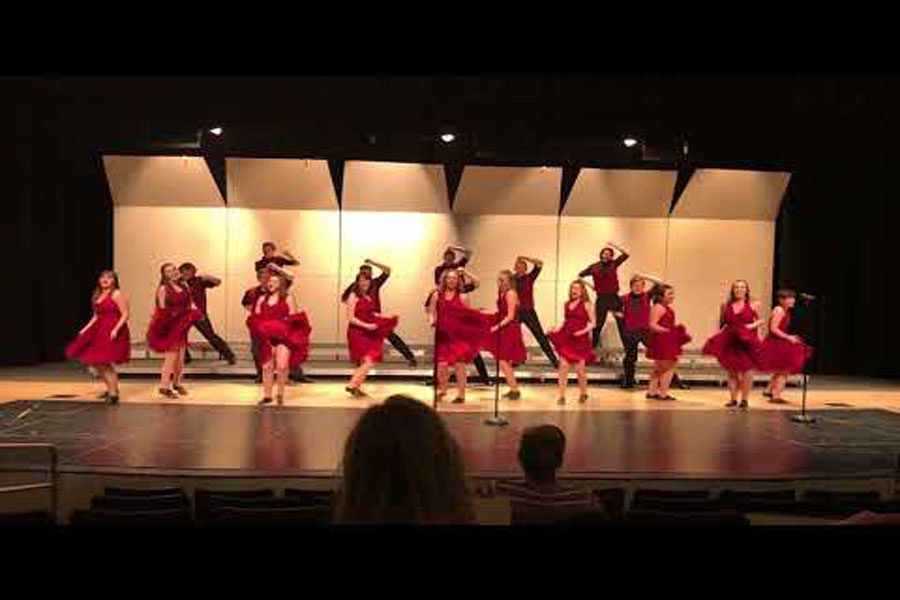 Coronado's show choir is singing their way to the top as they recently won first at the state competition out of the twenty-two schools that competed.  This competition for choirs from all over the state is a major deal and this is the second year Coronado has won. On Thursday, April 26th Coronado competed and then proceeded to win first place with their group of 19 Coronado students this year.
Deanna Cooper (12) has been in show choir for the past three years. She was overjoyed with the choir's performance and much deserved win. Cooper proudly stated that, "This year was the most dedicated year I've seen and we totaled it up and we worked something like 230 hours for in-school rehearsals and out of school rehearsals totaled together." The choir's hard work certainly paid off and Deanna, "was just so proud…of the entire group for getting first place."
The students performed a variety of songs including Run the World (Girls) by Beyoncé and The Lazy Song by Bruno Mars. The group performs, "in a set so [they] just do the songs back to back to back. The choreography is super rigorous so, basically [they] are trying to run and sing for twenty minutes at the same time," Deanna explained.
Mr. Hodur, Coronado's choir teacher, commented on the performance, "First place is pretty good," but of course, "they did great and this is a very difficult competition." The group had tough competition due to the fact that the competition was, "open to any school, any division, any size, from all across the state. Most of [the groups] are from Denver and there are three or four groups from Colorado Springs." The show choir greatly enjoyed the experience, Cooper says that at the competition it is, "such a great atmosphere," and everyone is "super supportive and energetic."
The show choir's dedication and talent has taken them far, as they placed first at the state competition which has not happened since the last time six years ago. Remember to congratulate the group on their outstanding performance and continue to support our Coronado Cougars!