#BeBest Campaign
Does Melania Trump need to teach her husband about cyberbullying?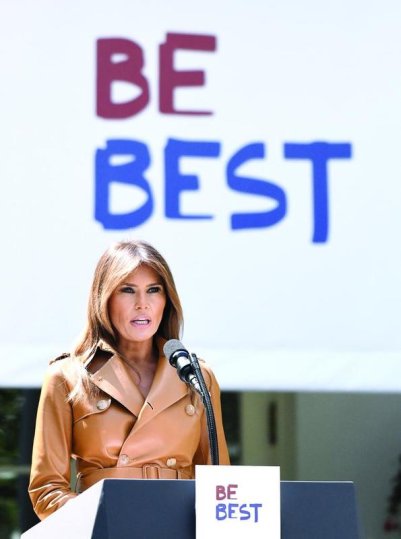 Earlier this week. First Lady Melania Trump unveiled her new initiative, the #BeBest campaign. The White House website describes the goals of the campaign as:
"When children learn positive online behaviors early-on, social media can be used in productive ways and can effect (sic) positive change. Mrs. Trump believes that children should be both seen and heard, and it is our responsibility as adults to educate and reinforce to them that when they are using their voices—whether verbally or online—they must choose their words wisely and speak with respect and compassion."
While this seems like a beneficial and meaningful initiative, it has drawn criticism because of the unavoidable irony of her husband, President Donald Trump's, use of berating language on social media, especially Twitter.
For example, last Thursday held a hostile exchange between President Trump and Senator Chuck Shumer, wherein Trump tweeted an attack:
Senator Cryin' Chuck Schumer fought hard against the Bad Iran Deal, even going at it with President Obama, & then Voted AGAINST it! Now he says I should not have terminated the deal – but he doesn't really believe that! Same with Comey. Thought he was terrible until I fired him!
— Donald J. Trump (@realDonaldTrump) May 10, 2018
Senator Shumer responded with a simple, seven-character tweet, reminding the President of his wife's newly launched initiative that is a campaign attempting to teach children to communicate online with respect:
#BeBest
—Chuck Schumer (@SenSchumer) May 10, 2018
President Trump needs to interact online with more kindness and maturity; he should be setting a better example for the children in our country and living by the words of Melania Trump's relevant and admirable campaign.
Works Cited:
http://www.saukvalley.com/2018/05/07/melania-trump-debuts-be-best-campaign/azcwfss/
https://www.washingtonpost.com/politics/bebest-schumer-reminds-trump-of-the-first-ladys-initiative-after-mean-tweet/2018/05/10/0163b156-5464-11e8-9c91-7dab596e8252_story.html?noredirect=on&utm_term=.82232629330b