Varsity Softball is in Full Swing!
With the help of their coaches, team captains Jenna Ruggaber and Neveah Santistevan are working hard to make this season a hit!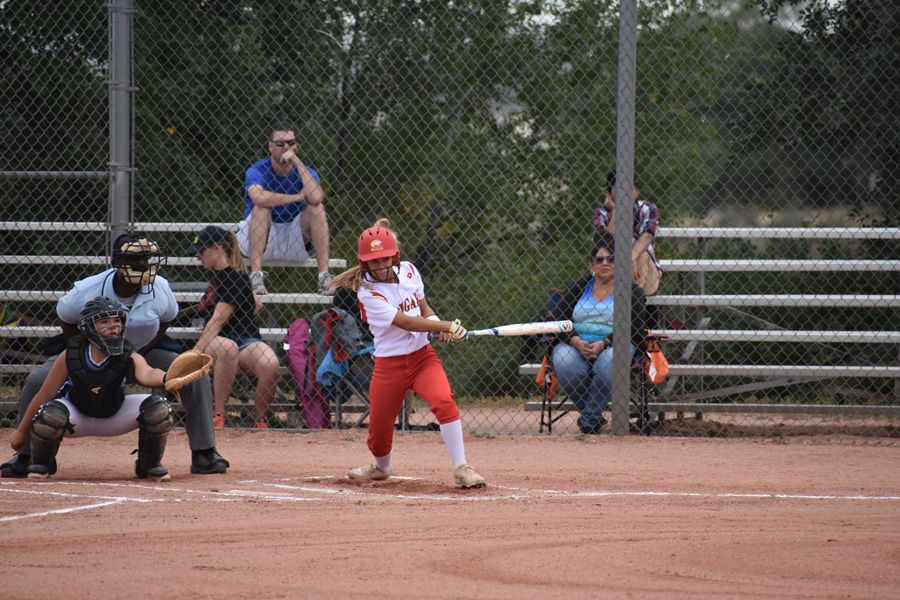 With 3 wins and 3 losses under their belts, the Varsity Softball team is preparing for their next game. These girls make softball appear easy to the viewers, but anyone who is involved in a sport knows that it is anything but. Preparing for games is essential to a successful softball season, and it seems that the team captains know this just as much as the coaches.
            The team has been working constantly to better themselves, which means giving it their all in their frequent practices. Jenna Ruggaber,11, is making it known that being on this team means that "whenever a game [is not] on, [they] are practicing, and when [they] do practice, it last for two hours."
            Their last game, played on August 22nd, resulted in a loss against Pine Creek. It ended with a score of 24 to 3, so the team is working harder than ever to make sure their next game is a win.The coaches are getting down to the nitty-gritty to eliminate even the slightest weaknesses. Nevaeh Santistevan,11,says that "[their] weakness is batting at the moment, but everything else [they] are doing strong on." Their next game is against Mesa Ridge High School, who also has 3 wins and 3 losses so far this season. With this equal matchup comes a larger need for support than ever before, which the coaches are definitely providing. Santistevan claims that "[they] always have support, and [they] could make a bad play or a bad decision in the game and [the coaches] will still be like "well, that's fine.""
           The support the team is receiving is constantly pushing them towards their next goal: staying focused on the game. They rely on focus and teamwork to make their plays more precise. The coaches are working with an almost brand new team of players, but they are adjusting well. "[The] team this year is a whole different team, [they] are more focused on defense and have had more success. All the girls bond and there is completely zero drama," Ruggaber added.
           With this goal in mind, the team is determined to win this next game. "I know [the team is] super prepared for this one," said Santistevan. They are playing on Friday, August 24th. The game is at Mesa Ridge High School and starts at 3:30. Come show your support for our Lady Cougars!