Cougars Compete at Cheyenne Mountain Stampede
The Coronado Cross Country team raced in the annual Cheyenne Mountain Stampede on August 24, where both the boys and girls teams ran well.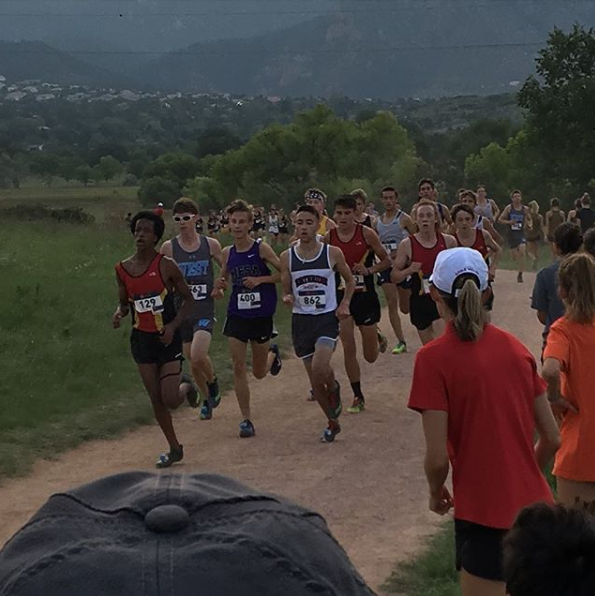 Last Friday, the Coronado Cross Country team took their talents to the Cheyenne Mountain Stampede, where they competed against some of the toughest teams in the 4A region. It was Coronado's first time competing in 4A after being in the 5A region for the past 4 years, but the level of competition was not diminished by the change – teams like Air Academy and Cheyenne Mountain, for example, are still difficult teams to contend with.
The girls team placed 9th overall, but had impressive individual performances. Freshmen Aryonna Mascarenas and Avah Houger both improved their times from the week before – an impressive feat considering the difficulty of the course. The standout performance, however, came from junior Grace Abernethy, who put up an impressive time of 19:27."I think the stampede went well even with the heat, and I think it made the team hopeful for the season ahead" said Abernethy of the meet. Another notable performance came from the JV girls team, where Rachel Del Valle shaved 11 minutes off her time from the same meet the previous year.  
The boys finished 4th, thanks to their strong pack running. The first four boys all finished in the top 30, led by senior Ben Swanson and freshman Zenabu Engstrom who finished 16th and 17th respectively. "It was difficult at first," said Engstrom of the course, "but later I got into a pace that fit for me." If Engstrom meets his goal of making state "as a team and individually," he will face the same course again at the State Championship.
Both the boys and girls teams boasted strong individual races – particularly from many of the freshman on the team. This bodes well for not only the rest of the current season, but for the future of the Coronado cross country program. Hopefully, the team will continue to build momentum throughout the rest of the season and compete well in 4A.