The Wizarding World in the Palm of Your Hand!
Harry Potter: Hogwarts Mystery is a mobile game available for Iphone and Android, based on the Harry Potter novels.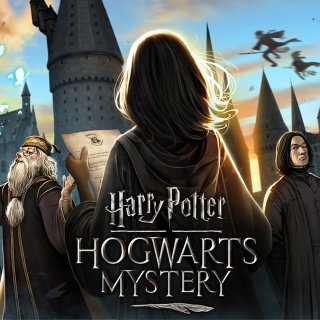 Have you ever wanted to experience the wizarding world within the palm of your hand? Attend Hogwarts and acquire the ability to cast spells? Look no further, because Harry Potter: Hogwarts Mystery is the game for you!
Harry Potter: Hogwarts Mystery, released 4/25, is a role-playing video game set within the world of Harry Potter, years before the series' namesake is able to attend Hogwarts (1984, to be exact). Customize your character, and begin your (albeit virtual) life at Hogwarts!
The game is developed by Jam City and published by Portkey Games. The actors from the Harry Potter series make up for more than half of the voices used in the game, such as Maggie Smith (Professor McGonagall), Gemma Jones (Madam Pomfrey), and Zoe Wanamaker (Madam Hooch).
Live through the life of your character, make friends with lovable characters, and investigate the circumstances of your older brother's disappearance. Be sorted into your corresponding Hogwarts house, attend classes, learn spells, and save your classmates from impending doom!
You play as your own character, starting off your first day attending Hogwarts. When arriving upon Diagon Alley, you are greeted by a rather friendly face, Rowan Khanna. Rowan acts as your guide in the beginning, giving you the task of finding your supplies. After your small meet and greet, you are able to get the perfect wand, suited just for you!
After getting settled into your new life at Hogwarts, you learn that your character's brother Jacob was expelled for looking for "The Cursed Vaults," a hidden vault that is rumored to exist within the school.
It is at this point that you go to your first class: Potions! The excitement doesn't last long, however, as you are docked House Points by the tetchy Professor Snape, after your potion experiment is tainted by the series' antagonist, Merula Snyde. Merula is a first-year Slytherin, determined to make your life, and everyone else's, miserable.
Merula continues to torment other students, one being the timid, fearful Ben Copper. This, and Merula's constant tricks, put you into a tricky situation; either duel Merula and stop her browbeating, or let her reign of terror continue.
An avid Harry Potter fan would know that student dueling is forbidden on school grounds, and being found in a duel can get hogwarts students expelled. However, you are willing to take the chance, and sure enough, you are found by two teachers, and sent to Headmaster Dumbledore. As the coolest character in the series, Dumbledore reprimands you for your disobedience of the school's rules, but congratulates you on your bravery.
The story takes you through your entire academic career at Hogwarts, with more dangerous, enthralling antics along the way. Learn more about becoming a powerful witch/wizard, make friends with charming characters, duel your enemies, and discover The Cursed Vaults!