World Series: Boston Dominates in Five Games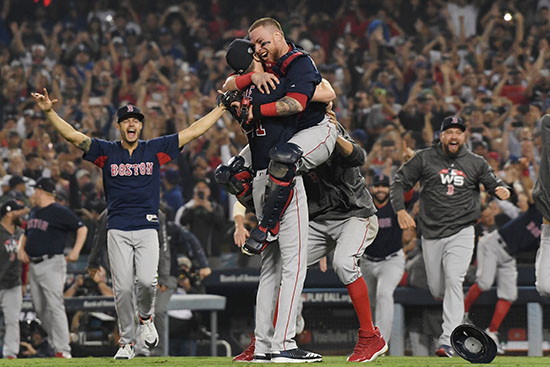 Hang on for a minute...we're trying to find some more stories you might like.
 On Sunday night, the Red Sox headed into Dodger Stadium one win away from winning the World Series. They had gone three and one in the past four games with the Dodgers, winning 8-4, 4-2, then proceeding to lose a game by the score of 3-2 in 18 innings. After taking a tough loss in 18, the Sox came back rejuvenated and ready to play, winning 9-6 in game four.
  In game five, the game started quickly with a lot of action in just the first inning. Steve Pearce, with a runner on base, hit a two run home run into the left-center field bleachers to give the Sox an early 2-0 lead. The Dodgers would have to start climbing back, and they did so with a home run in the bottom portion of the inning. David Freese hit a solo home run to make it 2-1 Red Sox. There wouldn't be another run scored until the sixth, where the Sox had another cross the plate, making it 3-1. They would tack on another in the seventh and another in the eighth, and won the game 5-1. The Red Sox took the series in five games.
  Steve Pearce was the World Series MVP, and with a new Chevrolet truck behind him and the Willie Mays World Series MVP trophy in hand, he was asked what he would like to say to the Boston fans.
  "We are World Champions, baby! Let's go!"
  The star pitcher for the Dodgers and future Hall of Famer Clayton Kershaw was asked how it felt to lose the series, and lose it two years in a row.
  "It's very disappointing. You know one team has to lose, but you don't expect it to be you. To have come this far two years in a row and lost both times is very disappointing."
  As the Red Sox catcher, Christian Vazquez, caught the final strike and ran out to Chris Sale, we heard the famous voice of Joe Buck say, "We can now say that the best team in baseball are World Champions. The Boston Red Sox are World Champions."