This Sport is a Huge Dill!
Getting in a pickle has never been more enjoyable thanks to CHS staff member Ms. Kline.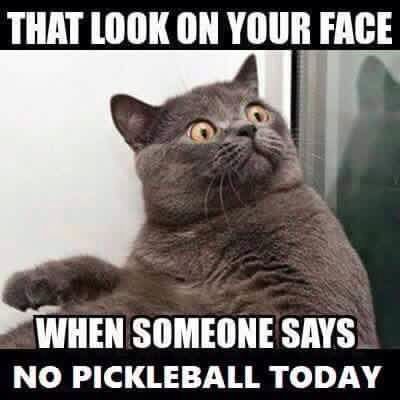 Amongst the variety of sports in Coronado, there is a sport called Pickleball. Hearing the unfamiliar name of this sport makes most people confused, but Pickleball is not as unfamiliar as its name sounds.
Aside from the sport's name, there are no pickles involved in Pickleball whatsoever. Despite this, Pickleball has a history with major significance to its creators.
In 1965, three families were having a gathering in Bainbridge Island outside of Seattle. It was during the summertime, and their children were bored. The three fathers of these families,  Joel Pritchard, Bill Bell, and Barney McCallum, decided to invent a game for them to play. They were trying to find an already existing game for their kids to play at this time, but they did not have full sets of equipment for any of the games they could play. The fathers eventually settled on several ping pong paddles, a perforated ball, and a volleyball net to set up in the backyard. The net was raised to thirty-six inches and the game was played on pavement so that the ball could be bounced. While the three men made up several rules, they took many of the rules from Badminton.
The game was created to have originality, so the three dads decided to call it Pickleball. The game was named after the Pritchard's dog, Pickles, who kept trying to steal the ball and run away with it every time the families played.
Fast forward to the 1990's, where this Badminton, Tennis, and Table Tennis hybrid is played competitively and in all fifty states; it is still played today, but is not widely practiced.
One of Coronado's staff members, Ms. Kline, fell in love with this sport three years ago; she found it to be highly beneficial, and she decided to provide students with the opportunity to experience the same passion for the game that she does. "I found this to be a great physical and social outlet. The community of players are enjoyable to be around and the game is competitive," Kline stated.
Ms. Kline loves Pickleball because it is hard for players to perfect, but "they can play all ages, young and old and have competitive matches." With the help of the Pikes Peak Pickleball Association, she is able to teach students how to play Pickleball with a passion and a fire for competition.
The Pikes Peak Pickleball Association is a major contributor of Coronado's when it comes to Pickleball. They help Ms. Kline in her teaching, prepare the auxiliary gym for tournaments, and hold fundraisers to support Coronado Pickleball. All of their work and proceeds benefit the annual Pickleball tournament that Coronado takes part in.
Joe Johnson, the president of the PPPA, is proud to help the students of Coronado explore this sport in a more passionate way. "The Coronado Cougars Tournament has grown in size and popularity among Pickleball players here in Colorado Springs and Denver. Players travel from as far as Buena Vista, Colorado to play in this tournament," Johnson claimed.
Coronado's Pickleball team is always open to new members and practices are Wednesdays from 3-5. The schedule may change depending on the needs of the basketball teams; both staff and students can come to practices. If anyone wants to attend the second CHS tournament of this year, a link to all the information and dates is at the bottom of the article.
Those who are interested in watching Pickleball in action can find the PPPA in Monument Valley Park on November 1st from 2:00 to 3:30. They will be playing an all play all tournament on this day. If students have any questions regarding Coronado Pickleball, they can contact Lisa Kline using the information below this article. If students have any interest in joining the PPPA and being one of their 950+ members, they can access that and more using the link to their website below.
If Pickleball is still confusing, students can watch the video below this article to see Pickleball being played in action. Interested students can also learn more about the history and creation of Pickleball using the link provided.
Anyone who is determined to can understand and play Pickleball, so show some support for the Coronado team that will cause a racket this school year!  
Pickleball in Action: https://m.youtube.com/watch?v=4HZ4wuRlDnU
History/ Creation: https://www.usapa.org/
PPPA Website: https://pppa.wildapricot.org/
Ms. Kline: Room 204, 719-328-3649
Tournament Info:https://pppa.wildapricot.org/resources/Documents/2018%20flyer%20for%20CHS%20Pickleball%20Tournament.pdf